Learn about animals who live at the North Pole with these great books and activities about Arctic animals!
Well, we're getting another winter storm tonight.
Obviously the cold weather is going to hold on a little longer. So instead of shaking my head, I thought I would embrace the idea of winter with a few fun activities that were shared at last week's Discover & Explore linky.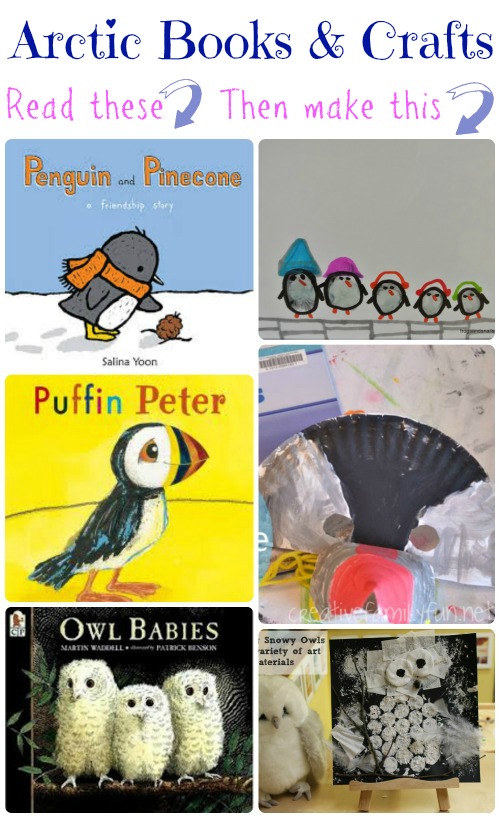 Arctic Animal Books, Crafts & Activities
Last week, we highlighted some great non-fiction books about polar animals. Since we also had some really fun crafts shared on the linky, I thought we could pair the books with fun activities and craft for kids.
So here's our "Read This, Make That" Artic Edition — we've included links to each of the projects along with affiliate links for each of the recommended books for your information and convenience.
Books about Arctic Animals with Activity Ideas
Puffins are one of the less talked about arctic animals so I was thrilled that we had a craft to share for the. Read Puffin Peter
and then make your own puffin mask from Creative Family Fun.
Enjoy the classic story, Owl Babies
and then create a beautiful snowy owl collage from Everyday Smilestones.
Now just so you know that we know, penguins don't live in the Arctic — they reside in the Antarctic — but they were too darn cute to leave out of the mix! We love Penguin and Pinecone
and these adorable thumbprint pengins from Frogs, Snails and Puppy Dog Tails go perfectly with the story!
Create a beautiful polar habitat diorama from Still Playing School for the polar bears and then read Polar Bear Night.
And the kids will love comparing habitats to learn about animal homes — like this fun Forest vs Arctic Habitat diorama and then reading Way Up in the Arctic
.
Thanks to everyone who shared their ideas! Be sure to see this awesome Polar Animals at the North & South Pole booklist for more great reading!
More Animal Activities:
17 Penguin Activities & Books for Kids