Explore all the things families can do at Great Smoky Mountains National Park and Gatlinburg, Tennessee — a wonderful year-round location for your next vacation.
The Mountains are calling!
Whether you're looking for a quiet weekend getaway, a summer travel destination or a location for your multi-generational vacation — you'll find it all in the Smoky Mountains.
With nature trails, wildlife, family attractions, driving tours, beautiful scenery and fabulous restaurant, there is SO much to do that you'll effeminately want to visit this Appalachian region again and again.
We are excited to be working with our sponsor, Holiday Inn & their #SmilesAhead campaign to share a detailed guide to this family travel destination along with tips for creating family memories on your next vacation!
---

10 Must Do Activities in the Smoky Mountains
Did you know that the Great Smoky Mountains National Park is the MOST VISITED national park in the US?!!
We had no idea — I thought it might be Yellowstone or the Grand Canyon but according to the National Park Service, more than 11 million people visit the Smokies each year!
And yet, it really doesn't feel crowded in the park at all. There are SO many trails, mountain streams and roadways that you definitely won't feel like there's a million people there with you 🙂 which we LOVE when we visit nature areas!
A few Things to Know Before You Go:
Pack clothes for layering! The higher elevations of the park are chilly even during the summer.
Bring along rain gear — the Smokies are so dense that it's easy to get in some hiking on bad weather days because you won't get too wet under all those trees.
Read up on Bear Tips! Seriously, you will receive info on how NOT to attract bears at your hotel, at the National Park areas and just about anywhere you go. If you're lucky, you'll see a bear from a distance during your visit but do read tips on safety and food storage.
Tips for Flying to Gatlinburg
If you fly into Alcoa Airport, you'll find a number of car rental options on the ground floor of the airport. Rentals are super easy here and since the airport is fairly small, getting in and out is quick (although security lines can be a little long at times so arrive early for your return flight).
It's a pretty easy drive to Gatlinburg – under an hour – and we would recommend taking the southern route as it winds through Smoky Mountain National Park on your way into Gatlinburg.
We did fly in at night and I will say there aren't many lights on the route but during the day, you'll be treated to some beautiful scenery as you arrive!
And if you'll be driving to Gatlinburg, print off some of these 40 free car games & activities to keep your kids busy on the trip!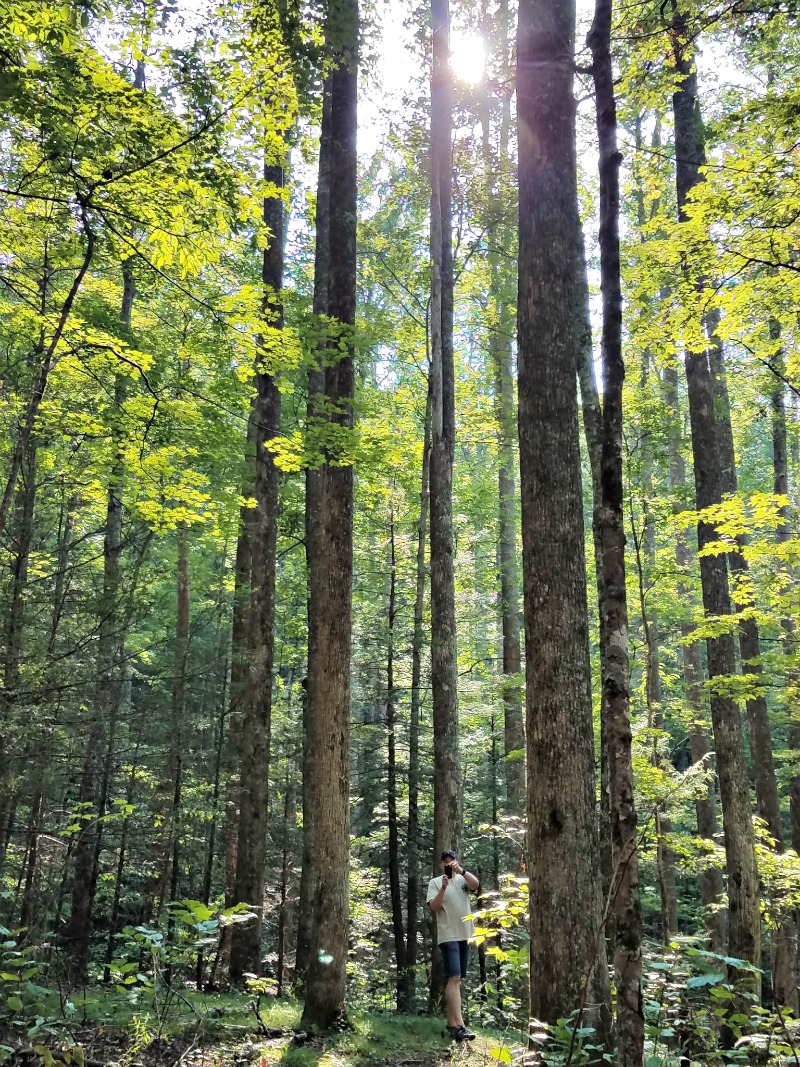 1. Take a Hike (or two!) in Smoky Mountain National Park
A waiter we met at one of the local restaurants that told us that quite a few people visit Gatlinburg without ever stepping foot into the National Park — I just can't even imagine this since the area is just SO beautiful!
One of the best ways to enjoy the park is on foot — there are short trails, long trails, easy trails, steep trails, paved trails and even famous trails 🙂 Check our tips for hiking with kids before you head out too.
Actually, there are more than 80 different hikes you can take in Smoky Mountain National Park — and that doesn't even count all the side trails you'll come across as you explore the park.
Stop by the Sugarlands Visitors center where you'll find trails maps and super helpful Park Rangers who will tell you which trails fit your family's needs!
A few hikes to try on your visit:
The Gatlinburg Trail – an easy walk right next to the visitor's center
Multiple waterfall trails (I've detailed a few of those below)
Trilliam Gap Trail on the Roaring Forks auto tour
Small side trails in Cades Cove that take you to various historic buildings
2. Drive through Cades Cove
Cades Cove is an 11 mile one-way loop within Smoky Mountain National Park that hosts historic buildings dating back to the 1800's, wildlife, hiking trails and streamways. Once you enter the cove area, you can drive and stop at any or all locations depending on how long you have to explore the area.
We drove Cades Cove on a rainy day — it's great to have something to do outside even when the weather isn't cooperating!
There are three key activities available at Cades Cove — wildlife watching, touring historic buildings and hiking. If you're visiting on a Wednesday or Saturday, you can also bike the 11 mile loop in Cades Cove (bike rentals are available at a number of locations near the park).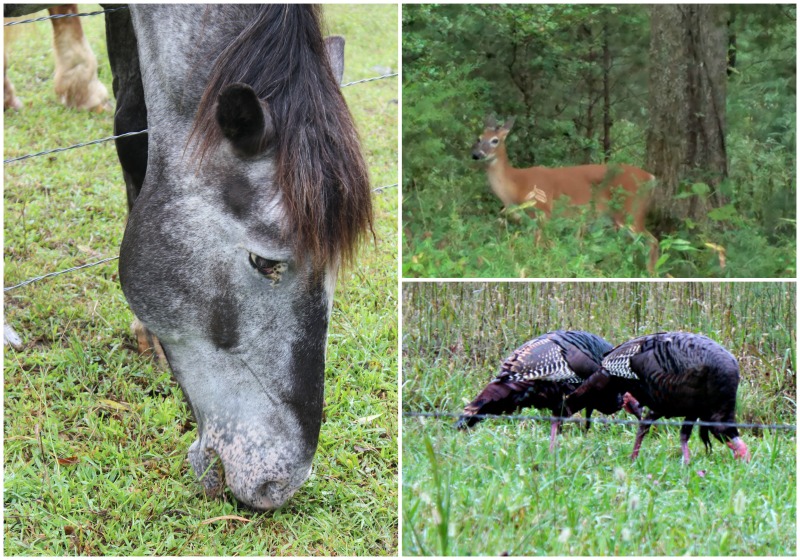 Wildlife in Cades Cove: We saw deer, wild turkey, quite a few birds and horses during our visit. You might also catch a glimpse of other park wildlife such as black bear and elk depending on when you visit.
Be sure to walk quietly if you want to catch a glimpse of wildlife in the area.
Historic Buildings: One of the reasons we visited Cades Cove was to explore the historic buildings on the loop. The buildings show what life was like during the late 1800's and early 1900's.
Plaques at each location tell the story of families who settled and lived in the cove over the past hundred years — super interesting!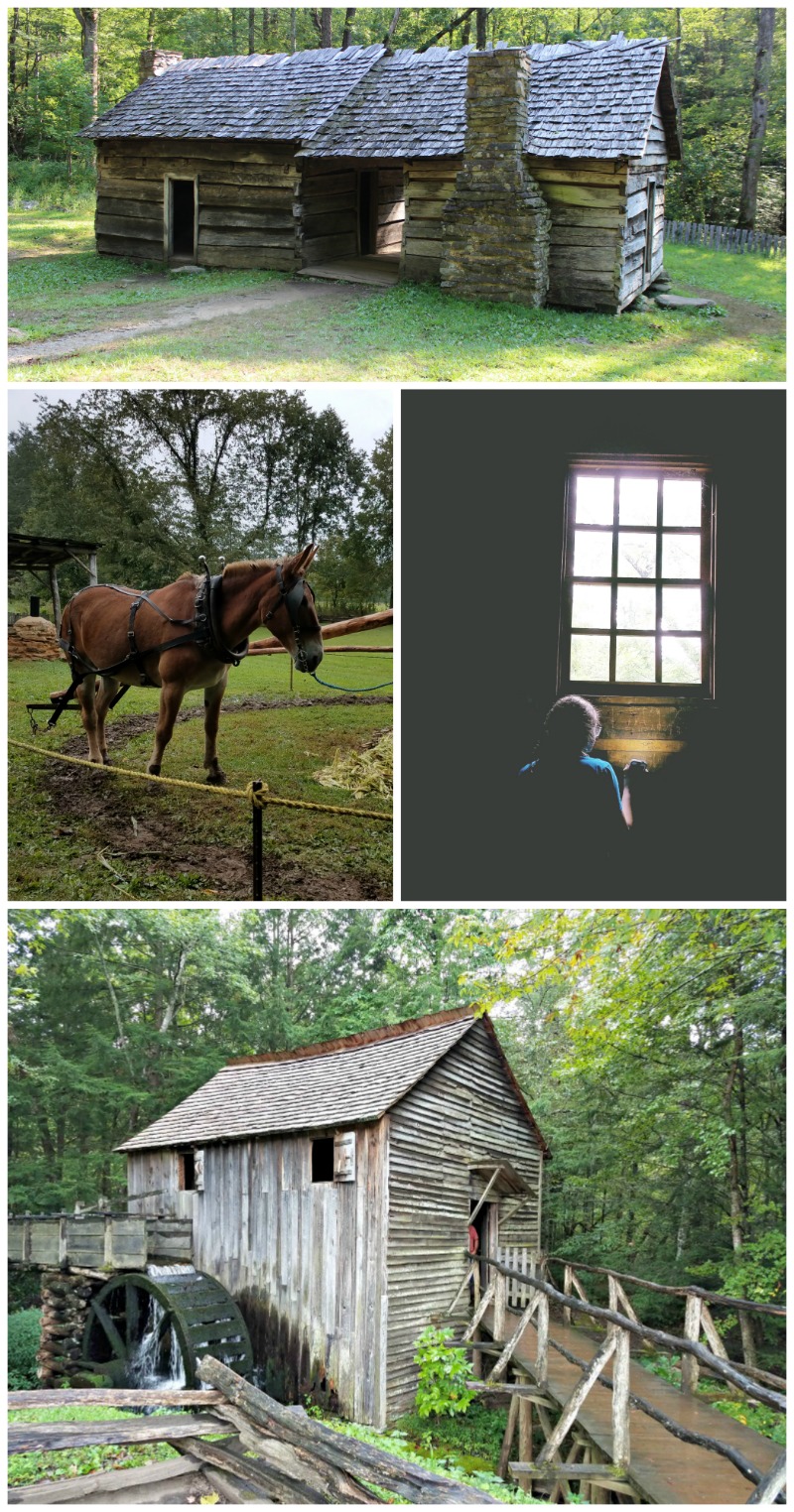 3. Step Back in Time
The Cades Cove area includes more than a dozen historic buildings that were family settlements, churches and working places of employment. It's really interesting to step into one of the homes and have your kids remark on how dark it is (windows were a luxury back then) or how you're able to see through the boards in the wall!
Be sure to bring your smartphone or a flashlight with you because you can climb stairs, go into closets and explore to your hearts content — but you need some light to really see all the details.
Mill Area Walking Tour – About halfway through the loop, you'll find a large area that includes a Grist Mill, visitor's center, more historic buildings and most importantly – restrooms! It's the perfect spot to get out, stretch your legs and explore. The mill has a working waterwheel attached and there were park docents who talked about the blacksmith area and mill operations.
I would HIGHLY recommend stopping at one of the Visitor's Centers in the park to buy a tour book for Cades Cove where you can learn a lot about each of the buildings throughout the loop.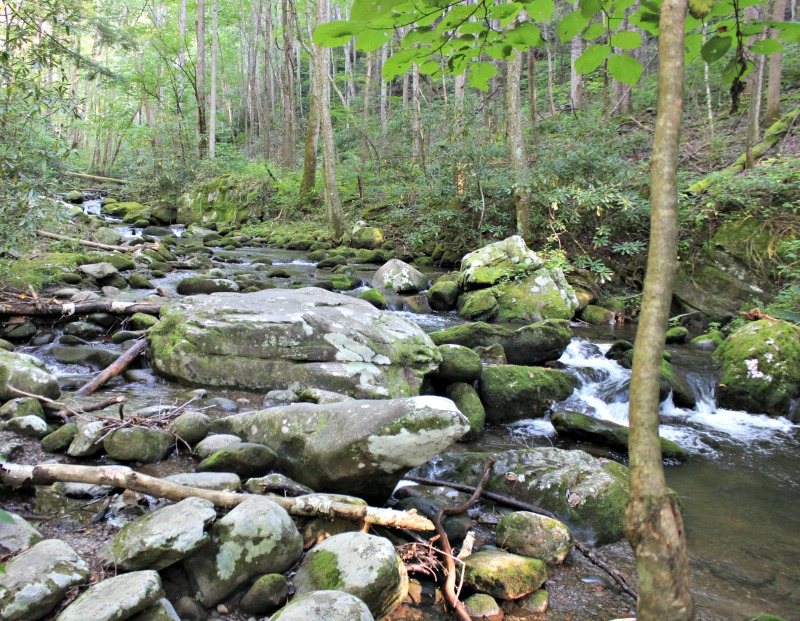 4. See a Waterfall or Explore a Creek
There is water EVERYWHERE in the Smokies! It seems like all trails lead you near or past a mountain stream, creek or waterfall.
The Smoky Mountain Park Trail map highlights which trails have stream crossings, those that follow a creek bed and trails lead to waterfall areas.
There are many easy to moderate trails and pathways to explore as you drive the Roaring Forks Auto Loop which is where we did quite a bit of our hiking.
Popular Waterfall hikes include:
Laurel Falls
Rainbow Falls
Ramsey Cascades (the tallest waterfall in the park)
Abrams Falls (located on the Cades Cove loop)
Based on the crowds in the parking areas at these locations, I would highly recommend getting there early in the day. The lots aren't that large so there's quite a bit of parking on the road.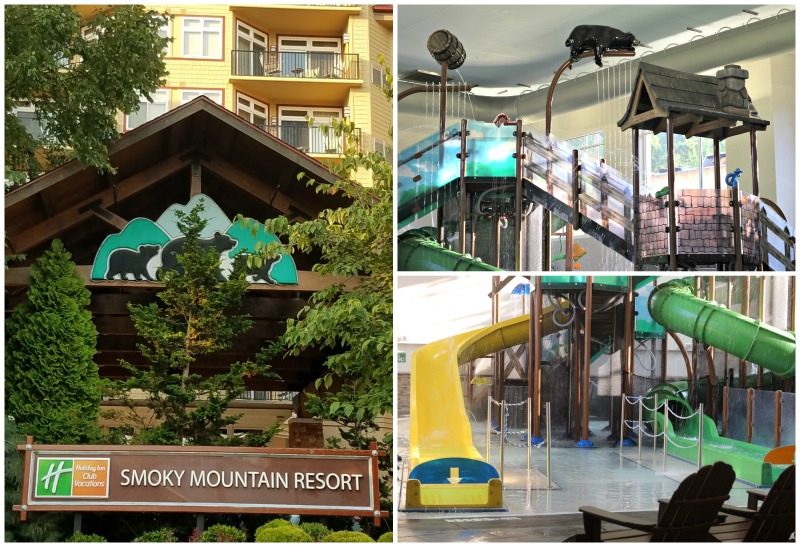 5. Relax at your Resort
After all the hiking and exploring, it's time to put your feet up and kick back, right?
If you're wondering where to stay in Gatlinburg, TN — Holiday Inn Club Vacations is the perfect location!
The resort is located on the Historic Nature Trail, sits on LeConte Creek and has a view of Smoky Mountain National Forest! You can walk to the National Park, restaurants & so many attractions in 15 minutes or less.
The Gatlinburg Trolley runs right by the resort so you can easily use public transportation to get around Gatlinburg without worrying about parking & traffic — so nice!
And I can't say enough great things about the staff at the resort — when you ask for directions, they find you a map along with detailed directions. We arrived late on our first night and staff quickly helped us find a delivery restaurant so we could eat in our room at 11pm (we were so hungry 🙂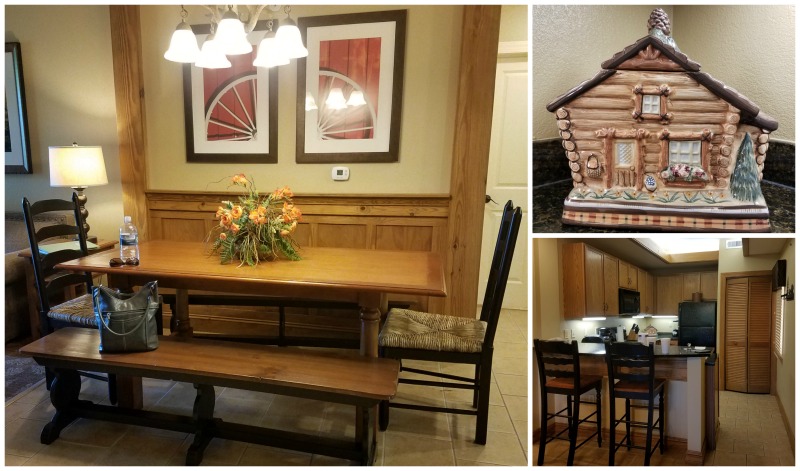 You'll have your choice of suites at Holiday Inn Club Vacations — all include a full kitchen, living room and dining area that easily accommodates 6 people. Our room included 2 bedrooms and 2 full bathrooms, along with a wonderful balcony that overlooked the creek & mountains.
Suites also include a washer/dryer (a must for family vacations!), dishwasher, DVD player, fireplace and LOTS of attention to details at this resort — so cozy and comfy!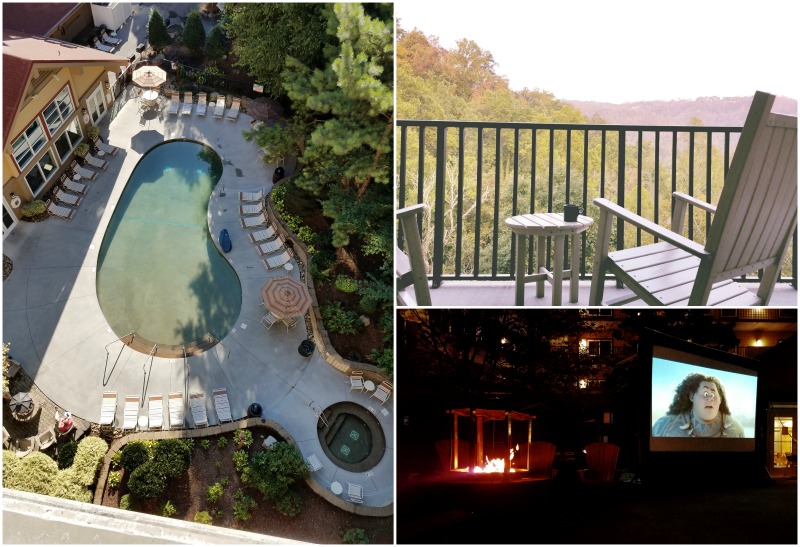 The resort also offers some wonderful amenities right on property:
an indoor pool & outdoor pool and a hot tub (perfect after a day of hiking!)
an indoor water park for kids — great mountain-theme & it's HUGE!
daily activities like crafts, movie nights, animal encounters, etc. (just ask the staff for their weekly schedule)
family-friendly areas — play checkers in the gorgeous lobby, enjoy the game room or relax near the outdoor fire
and a marketplace where you can grab milk, juice, cereal, snacks and other items you might need during your stay.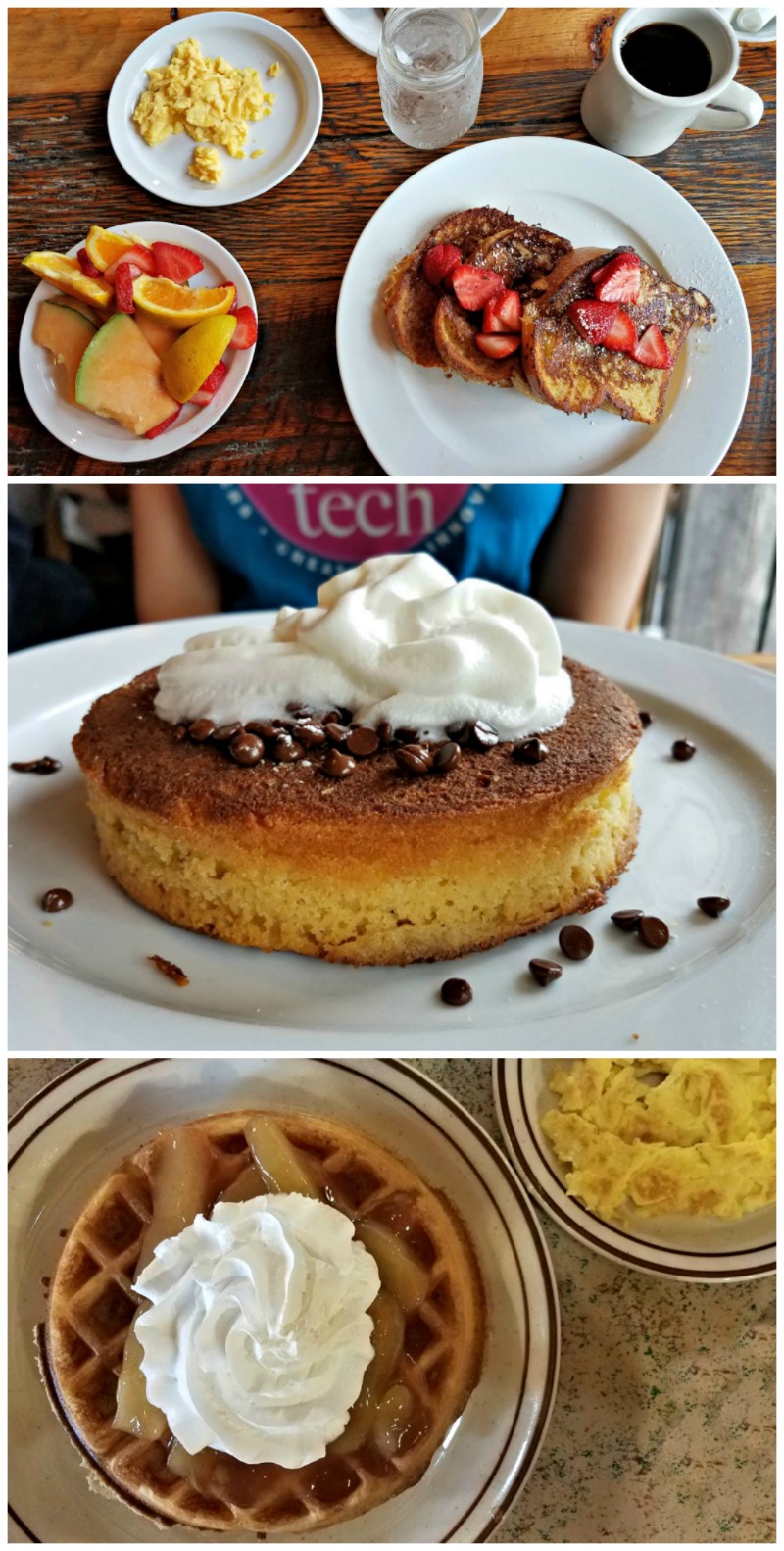 6. Eat Breakfast!
You know the saying 'breakfast is the most important meal of the day'?
That's never been truer than on a day you plan to be out exploring! And there are some AMAZING places to eat in Gatlinburg!
Crockett's Breakfast Camp: This old-time logging themed restaurant has wonderful food & lots of it! I think I would eat breakfast here every morning if I could 😉
The mouth-watering french toast and the pancake pictured above are both from Crockett's. The fresh fruit bowl is a nice size for sharing — the french toast is made with their special homemade bread, eggs are made to order, omelets are chocked full of items and the staff was very accommodating for dietary needs.
Trust your server when ordering — ours told us one pancake would be more than enough when our daughter ordered and it sure was more than enough!
The line outside the door will tell you the food must be great — here's a BIG tip: they offer call-ahead sitting!!
Log Cabin Pancake House: Another big hit for breakfast is located on the Historic Nature Trail right across the street from the Holiday Inn Club Vacation property. (Can you tell we ate big breakfasts and skipped lunch on our stay 😉
We enjoyed waffles during our visit (pictured above) along with a HUGE plate of fresh fruit and eggs cooked to order. Again, a very nice menu selection and rustic theme at the restaurant. Staff was great here too!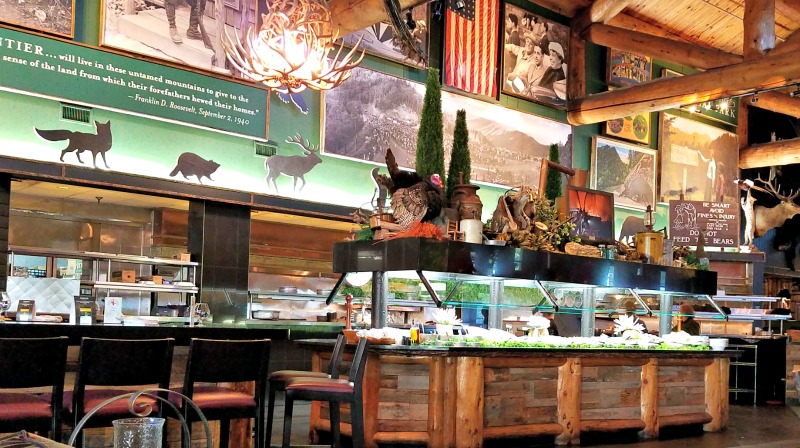 More Gatlinburg Restaurants
The Park Grill (for lunch & dinner)
We enjoyed The Park Grill so much on our lunch visit that we returned again to try them for dinner.
Don't forget to snap a few photos on your way into the restaurant – they have a nice lobby area and their decor feels like a historic park lodge. This is a fun place to play 'I Spy' with your kids as there's a lot of fun things to look at while you eat.
They have a really nice salad bar (be sure to try the Basil Vinaigrette dressing!) my family told me their burgers are wonderful and the desserts are delicious (and big enough to share!) Staff here are just superb — really, the wait staff at every restaurant was just top notch!
Room Service options for Holiday Inn Vacation Club:
We really loved having the option to carry-out or order in during our stay — hiking at the park can make for a long day so it's great to be able to 'eat at home' while you're on vacation 🙂
Both Luigi's and Big Bear Restaurant have carry-out or delivery options for food — pizza, pastas, salads, burgers and more. Be sure to ask about delivery times when you order as both locations can get busy!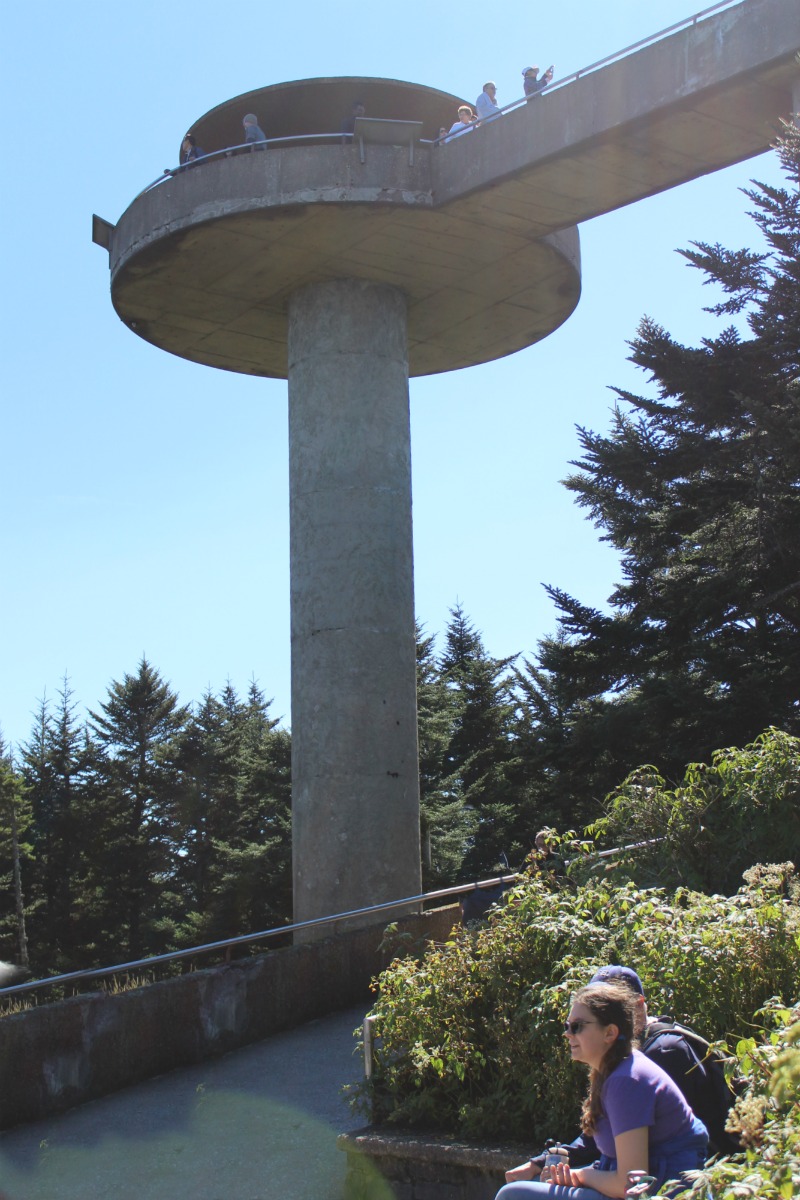 7. Climb Clingman's Dome
This is definitely a MUST DO for anyone visiting the area — best views in the park! The road is closed during the winter so be sure to check before you go.
First, pack jackets & clothing layers (you're going to be traveling up to an elevation of 6,600 feet). When we got out of our car, it was 49 degrees and we were shivering.
There are 'rustic' bathrooms near the parking lot (think outhouse with solid doors) — remember, you're at the top of a mountain. The bathrooms do have long waits to be sure everyone tries to go before you leave that morning!
You'll be driving Newfoundland Gap Road so enjoy the gorgeous look-outs on your way up to Clingman's Dome. Be sure to pull over a few times, snap a great family photo with the view.
Parking here can get REALLY busy so we recommend getting to the dome around mid-morning.
If you go too early, you may encounter fog and not be able to see much. If you head up too late, you'll be waiting in a line of traffic. We arrived around 10 am and only waited about 5 minutes for a spot.
Once you walk out of the parking lot, you'll take a paved trail that leads to the observation tower. You don't have to go up the tower if your family is tired after hiking the trail — you'll see gorgeous vistas right on the trail.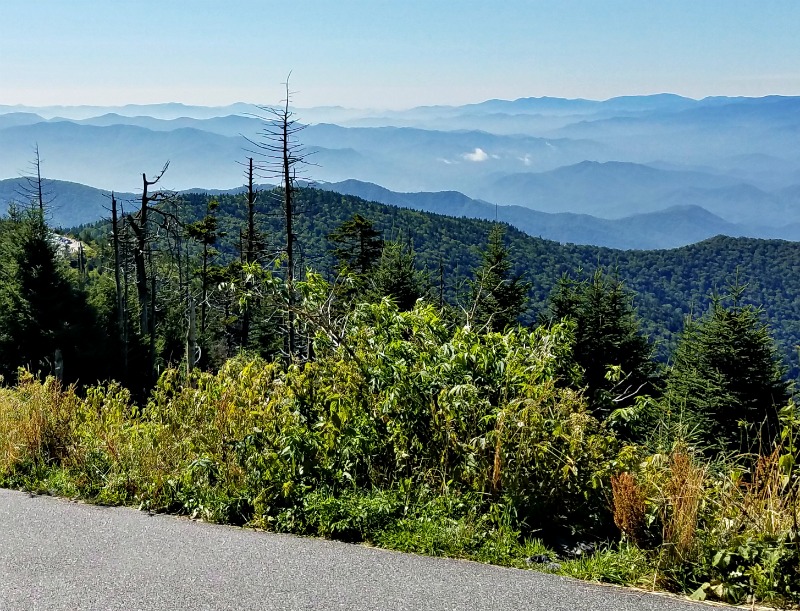 The pathway is NOT stroller friendly at all!
The signs will tell you that too. There are a lot of benches (like every 50 feet) so stop and catch your breath if you need to — and snap a great photo of the view.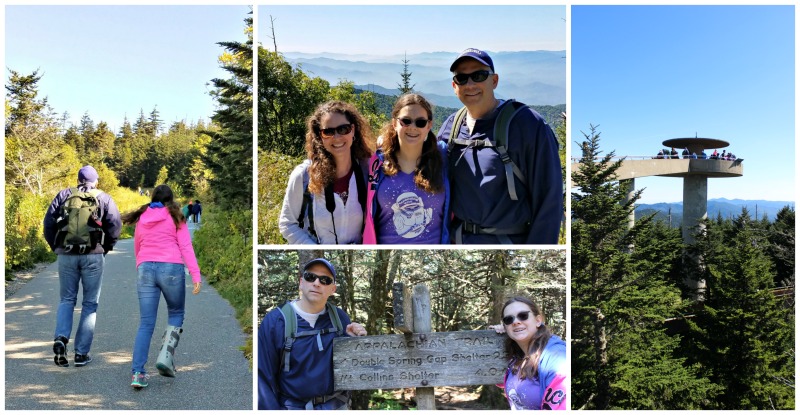 As you can see in the photo, my daughter walked the pathway in a cam boot (she twisted her ankle a few days before we left — sadly, we frequently travel with kids who are injured so we are use to this type of thing).
They say on a clear day, you can see for 100 miles — and we believe them!
The tower isn't open every day as they are doing work in the area so you may want to ask about the work schedule at the Visitor's Center. Once you start walking up this 45 degree inclined slope, you will quickly warm up!
There is a circular (and steeper) path up to the observation tower where you can see across 7 states (we were told) from the top of the tower!
As you head back down the path, you'll see a sign that says "Appalachian Trail" on your right — it's just a few steps down a pathway and you can actually walk the AT (as it's referred to in this area!) which was a big thrill for us!
One of my life goals is to hike the Appalachian Trail and this was our first time to actually walk it (even if we did only walk about 100 feet 😉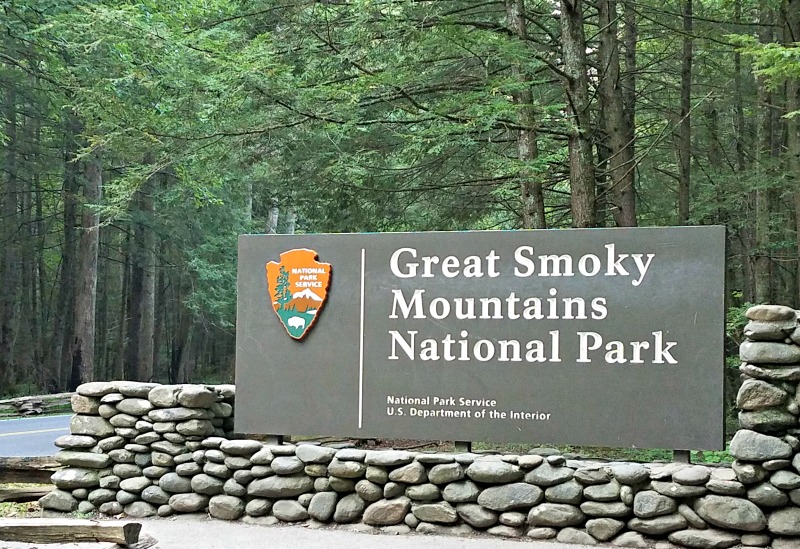 8. Explore Roaring Forks Auto Loop
We weren't sure we wanted to do 2 driving tours of the park but since my daughter was in the cam boot, things just seemed to work out that way and Boy! were we glad they did!
Roaring Forks is a one-way driving loop through some of the most beautiful areas of the park! There are a few historic buildings on the loop and many pull-offs where you can follow trails into the forest, explore streamways and enjoy hiking — we actually just took short trails leading to overlooks and into the forest and were thrilled to see wildlife, creeks and some beautiful areas.
I would suggest visiting early in the day or at dusk as you're more likely to see wildlife at those times and honestly, the traffic on the loop when we drove at 5 pm was very light.
Yes, we saw a bear on our drive thru!!!
We were in the car (whew!) and a smaller black bear was foraging through logs about 25 yards from the road.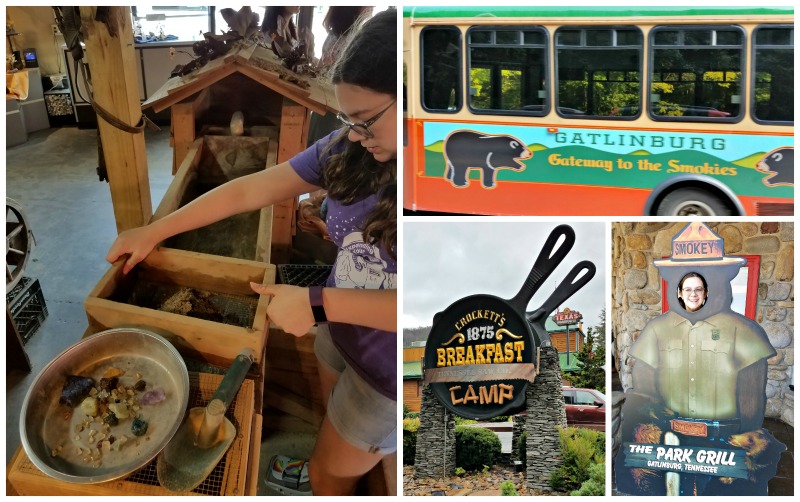 9. Do Something Different in Downtown Gatlinburg
One of the ways to make memories on vacation is to try something new together.
psst… have you printed off your FREE list of 23 Family Traditions to Start When You Travel?!!
We walked to restaurants each day during our visit and passed a number of fun things to do. We did stop at the Gem Mining for a fun visit, browsed a few local artist studios and some fun shops!
Other popular attractions in the area include:
Ripley's Aquarium of the Smokies
Ober Gatlinburg – a Sky ride up the mountain
Gatlinburg Mountain Coaster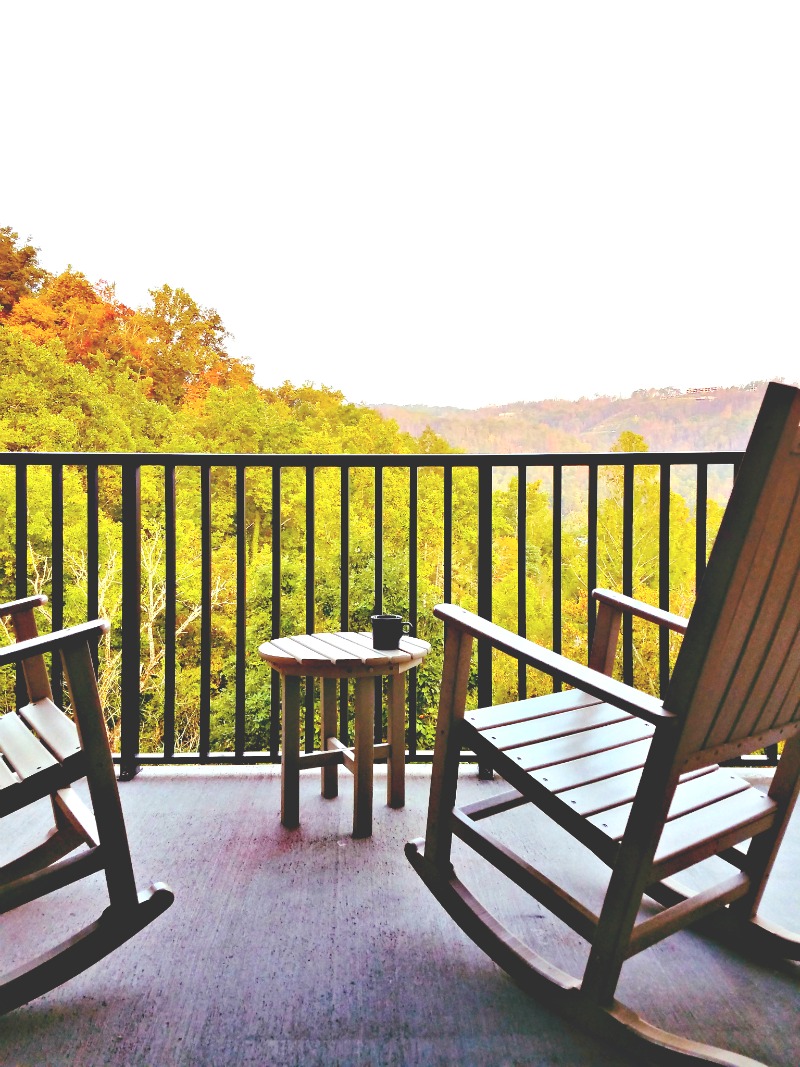 10. Enjoy the View
You will not have a problem finding breathtaking views during your visit!
Whether you're driving an auto tour, taking a hike or relaxing on your balcony, you will realize why so many people visit the Smokies each year.
More Family Travel Ideas:
23 Family Traditions to Start when You Travel
27 Travel Hacks & Tips for AWESOME Road Trips
This is a sponsored conversation written by me on behalf of Holiday Inn. The opinions and text are all mine.