I love today's theme for the Discover & Explore linky! Ok, I really love all of our themes but this one is really fun because we get to talk about Vacations!
I adore vacations — heading out to explore a new place, relax and reconnect with the family.
I had two amazing parents who would take us on vacation every year and we've continued this tradition with our kids. We make travel a priority so we save year round for our trips and take advantage of every minute we have on our trips. Traveling is such a great experience! It allows you to discover new things (foods, animals, etc) explore different cultures & areas and also learn more about yourself.
I can't wait to see what everyone shares in the linky this week! I'd love to see great places that your family has visited, fun vacation memories or wonderful tips & ideas that make the trip special. I thought I would start off by sharing a few places that we've enjoyed on past trips.
Exploring Lighthouses
I always view vacations as a time to see something new and unique, or to try an activity that you normally wouldn't do at home. So we will frequently visit different types of buildings or landmarks on our trips.
Some of the fun structures we've toured over the past few years are lighthouses that have been near our vacation destinations.
When we first began visiting lighthouses, the kids would notice some similar things about many of the structures. First, they are all near water. Now I know that's pretty obvious to us adults — but since the concept of a lighthouse is new for kids, this is a pretty big connection.
You can see this type of observation-connection with many things that kids experience over time and it's wonderful because it means your child is learning something. I call it "stacking knowledge" — a way that they build on what they already know.
The photo above is one of Split Rock Lighthouse in Minnesota — and I love their slogan: "Before GPS, there was a really BIG light." As you tour the lighthouses, you can read about the number of ships that were saved from crashing on the rocks, why lighthouses were built and learn about some great folklore and biographical information for the area and keepers.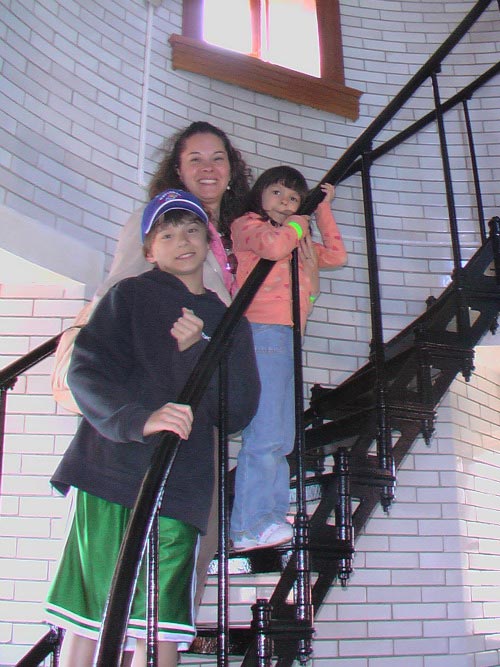 There are a lot of unique things you can do on lighthouse visits. If the lighthouse is open to the public, make sure to go in and explore the fun architectural elements! We LOVE circular stairways – and yes, my son did ask "if the keeper is in a hurry, do you think he slid down the railing?" I don't think so but it did look fun to try 😉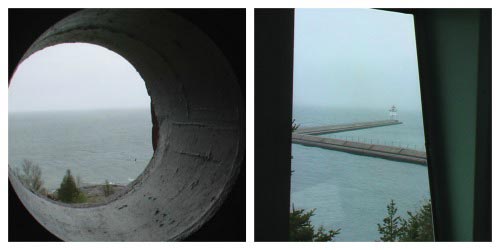 Another interesting element inside a lighthouse are the windows. Not your average pane of glass by any means. Some lighthouse bases are very thick, so the windows are really deep (notice the circular example in the left of the photo). And many lighthouses also have very long windows so that the keeper is able to see large amounts of the water and coastline at one time.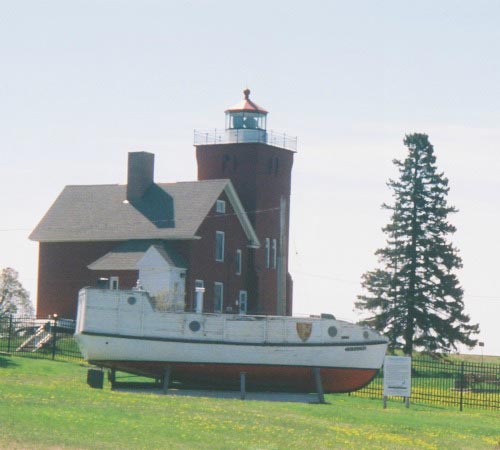 This was a really interesting visit for us – a square lighthouse! You always see those tall, round ones in pictures but the Two Harbors Light Station has a square tower. This is still an active lighthouse, meaning that they still turn on the light in the tower to help ships with navigation.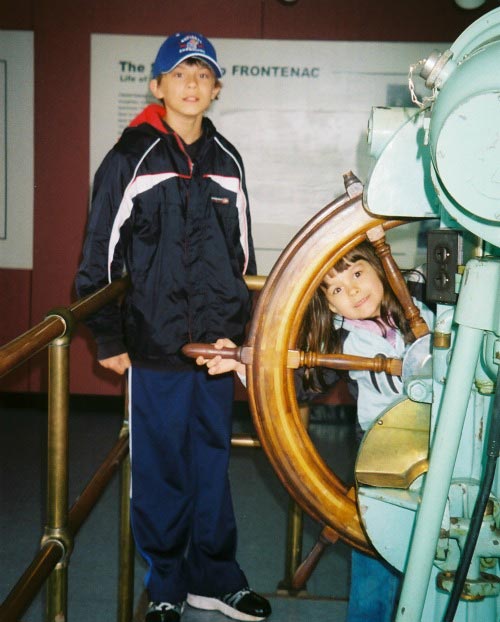 We were able to tour part of the lighthouse (some of the rooms are actually used as a Bed & Breakfast to help with the costs of keeping the lighthouse operating) and then spent some time in the pilot house. There was a great exhibit of the history of the area in the pilot house along with this really cool wheel and control area that were taken from a ship's helm.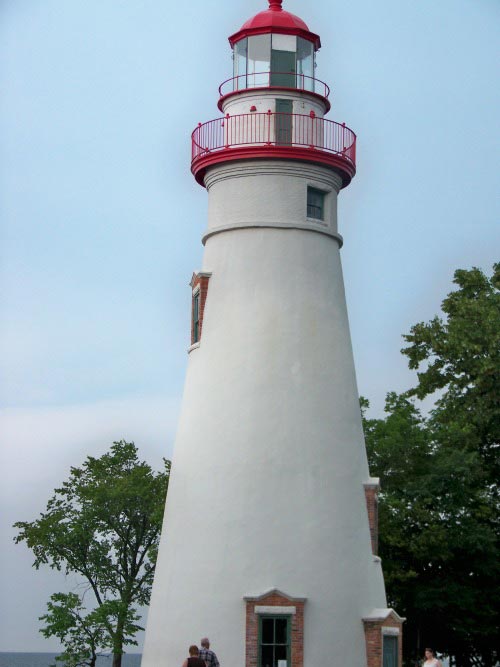 During a visit to Ohio, we toured the grounds at Marblehead Lighthouse State Park. There was actually a storm coming in that day and it was really windy so we didn't tour the lighthouse itself. You can see from this photo that this is more of what many people think of when they hear the word lighthouse — a tall, round structure with a light and catwalk at the top.
If you're interested in lighthouse terminology, visit the Lighthouse Kitty. Kids can learn about the names of various parts of a lighthouse along with terms used by the keepers (for example shoal, cistern and diaphone).
So, do you want to go off and explore a few lighthouses with the kids? There are lighthouses all over the world — find one near you or your vacation destination by visiting The Lighthouse Directory.
And if you're heading out on a road trip this year, browse The Ultimate Road Trip Guide for Families to learn about car activities, travel tips and why getting there can be half the fun!
Share Your Vacation Fun
What types of unique places to you visit on vacation? Do you have any great travel tips or fun vacation activities? We'd love for you to link up any tips, trips or travel fun in this week's linky!
Be sure to visit our co-host Fantastic Fun & Learning to see what Vacation Fun they are sharing this week.

Upcoming Themes:
Currently Open – Fun at the Beach
July 17th – Life Under the Sea
July 24th – Space Exploration
July 31st – Boats, Water Fun & Things that Float

Please read the following guidelines for sharing:
Share family-friendly posts related to the weekly topic — kids activities, crafts, recipes, nature outings, printables, etc.
By linking up, you are giving me permission to share your post including one photo in our weekly feature post and on social media channels.
Visit 2-3 other posts that have linked up, find some new ideas & meet new friends!
If you'd like, grab a button for your post — we love to share and want to find lots of great activities to highlight for you!
The linky will be open for 2 weeks so feel free to come back and link up any new posts.
Each of the host blogs will choose a few great ideas to be featured in a round-up post and pinned the Discover & Explore Pinterest Board!
If you aren't already, please remember to follow us on Pinterest so you're sure not to miss those feature posts. You can also find us on Facebook , Twitter and g+ too!