Preschool, elementary & middle school kids will LOVE these math picture books that teach early and advanced mathematical concepts!
So here's the issue at our house — we've got one child who is a math whiz and another who wouldn't mind if math was wiped off the face of the earth.
The one thing they both have in common is neither enjoys any math homework:
"It's boring, Mom!"
"Yes, I know. Worksheets aren't always the best way to enjoy math."
But you still need to do your homework.
This is how it goes for so many things in life, right. Practice isn't always as much fun as 'the real thing'!
So since math is important in life, I try to introduce them to non-school, non-worksheet ways to gain a better understanding of math concepts.
As a parent, I have to find ways for them to practice, enjoy it and find it relevant to their life. Otherwise, I will be forever helping them to figure out if they have enough allowance money to buy the souvenir they want when we're on vacation!
---
Math Picture Books for Preschool thru Middle School
Luckily, both of my kids adore books.
And even better — there are some AWESOME books that integrate math into the story. Authors can find such entertaining ways to weave a boring subject into a good story 😉
This week's Discover & Explore topic is Math so I thought it was the perfect time to share some of our best loved math stories. The ones that even kids who hate math will love to read. I've included affiliate links to each of the books on our list so you can review them further to see if they would be a good option for making math more fun with your kids or students.
And as you read along, challenge your kids to solve the problems before they turn the page —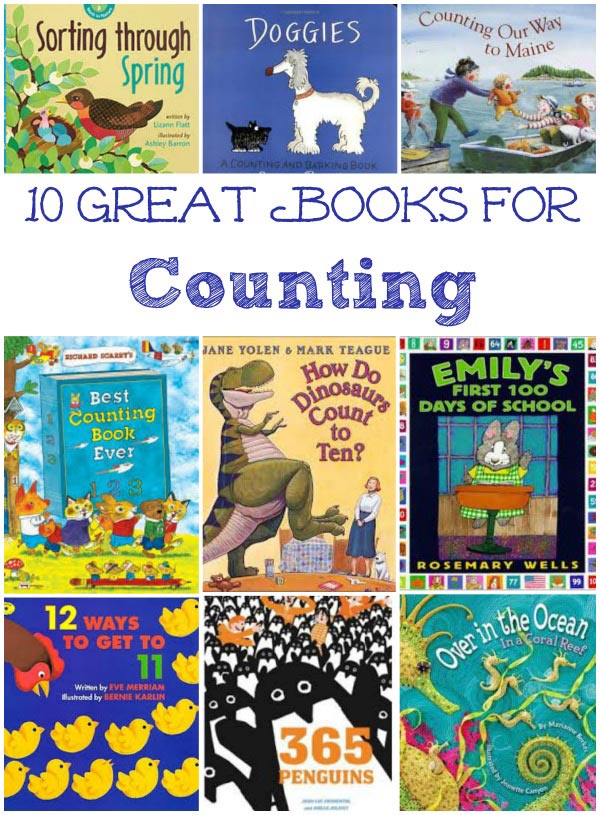 Math Picture Books for Preschool & Elementary Kids
Learning the identify numbers and then counting items are the earliest introductions to math for most kids.
First let me say, you don't need a math-focused book to practice these concepts. You can count the items in any book you read. And many stories will include page numbers or integrate numbers in their text (such as the number of months in a year or the number of eggs in a basket).
Books with a main theme that focuses on counting are a nice addition to reading time because they encourage children can practice their numbers in a type of repetition. Kids will count (sometimes forward, sometimes backward) as they read the story.
Richard Scarry's Best Counting Book Ever
– a vintage counting book that parents will enjoy too!
Doggies – A Sandra Boynton Board Book
– excellent first counting books for babies & toddlers.
The Very Hungry Caterpillar
– learn numbers and the days of the week with Eric Carle.
How Do Dinosaurs Count To Ten?
– a hilarious look at counting
Counting Our Way to Maine
– wonderful & funny family read.
Emily's First 100 Days of School
– perfect for kids in K – 2nd grade; a long book that introduces so many learning ideas.
Over in the Ocean: In a Coral Reef
– a rhyming count-along of your favorite sea animals.
12 Ways to Get to 11
– this book will make kids think as it presents numbers in non-numeric ways.
And for more advanced counting —
365 Penguins
– learn what it takes to care for a colony of penguins while you practice all types of math concepts.
How Much Is a Million?
– for kids who are ready for really big numbers.
If you're looking for ideas for counting big numbers, be sure to read out 100 Ways to Count to 100 post — great for the 100th Day of School activities or estimation jars!
Another favorite series that ties math to nature are the Math in Nature books. These are beautifully illustrated and do a wonderful job of integrating the natural environment with numbers. Try Counting on Fall and Sorting Through Spring
— I highly recommend an outdoor story time session with these books!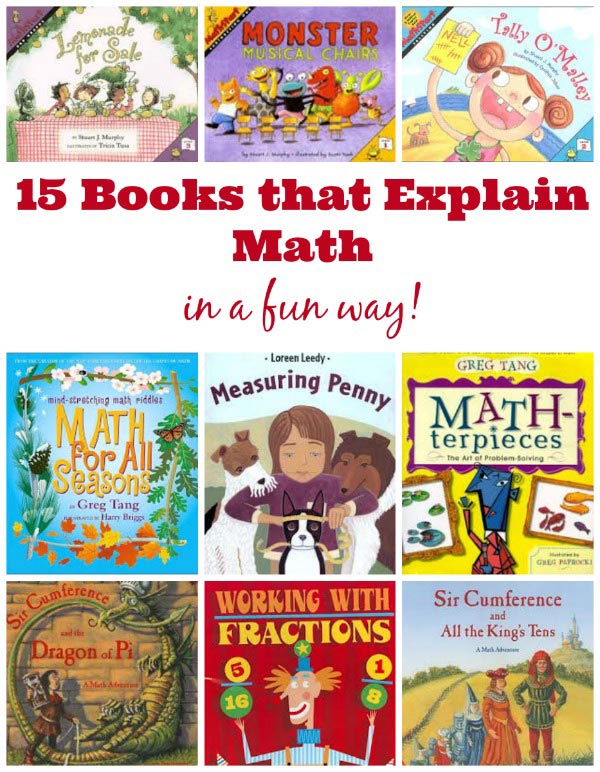 Math Picture Books for Middle School
Yes! You can (and should) use math picture books when teaching advanced math concepts even to middle school kids! (Don't let them fool you — anyone loves to be read to 😉
Why use pictures books to teach mathematical concepts?
First, because it's a different way to approach the topic — less numbers and more words will really help some kids to better grasp a concept.
Second, it's a great way to mix things up instead of constantly repeating & practicing math problems.
And third, there's pictures! That's a hard thing to come by when teaching math in most areas so it's a welcome departure from the normal math textbooks and worksheets that many kids are used to seeing by this age.
There are a few great authors and series that I like to use when discussing concepts such as multiplication, fractions, geometry, etc.
Once your kids discover an author or series they enjoy, you'll quickly find a variety of books that discuss the various mathematical ideas.
Greg Tang has written quite a few books that integrate math concepts. One of the things we love about his stories is the math is presented in a variety of word problems so kids quickly begin to see that math doesn't always look like an equation. A few that we enjoy include:
Math Potatoes: Mind-stretching Brain Food
Math-terpieces: The Art of Problem-Solving
Math For All Seasons: Mind-Stretching Math Riddles
Loreen Leedy and David Adler are two more authors who can make math fun and relevant. They create real life stories and examples around concepts such as measurement and fractions. And thank goodness because I can't tell you how many times I've heard "I'll never need to know how to do this in real life." Yea, right 😉
Try Working With Fractions
and Fraction Action
to explain the idea of parts vs. whole.
For measurement, kids will enjoy Perimeter, Area, and Volume
and Measuring Penny
.
Cindy Neuschwander has a unique take on math concepts. In her 'Sir Cumference' series, she shares a variety of math concepts through the adventures of favorite medieval characters. For example, Sir Cumference and All the King's Tens: A Math Adventure
teaches kids about counting by 10's while Sir Cumference and the Dragon of Pi
attacks the more advanced concept of Pi.
One excellent series for transitioning from math learning in elementary grades to middle school is the Math Starts books. These are leveled stories with Level 1 introducing some of the basic ideas of math, Level 2 shares early concepts such as addition & subtraction and Level 3 dives into more complex topics like estimation, scale and graphs.
A few that we recommend from this series include:
Monster Musical Chairs (MathStart 1)
Tally O'Malley (MathStart 2)
Treasure Map (MathStart 3)
Lemonade for Sale (MathStart 3)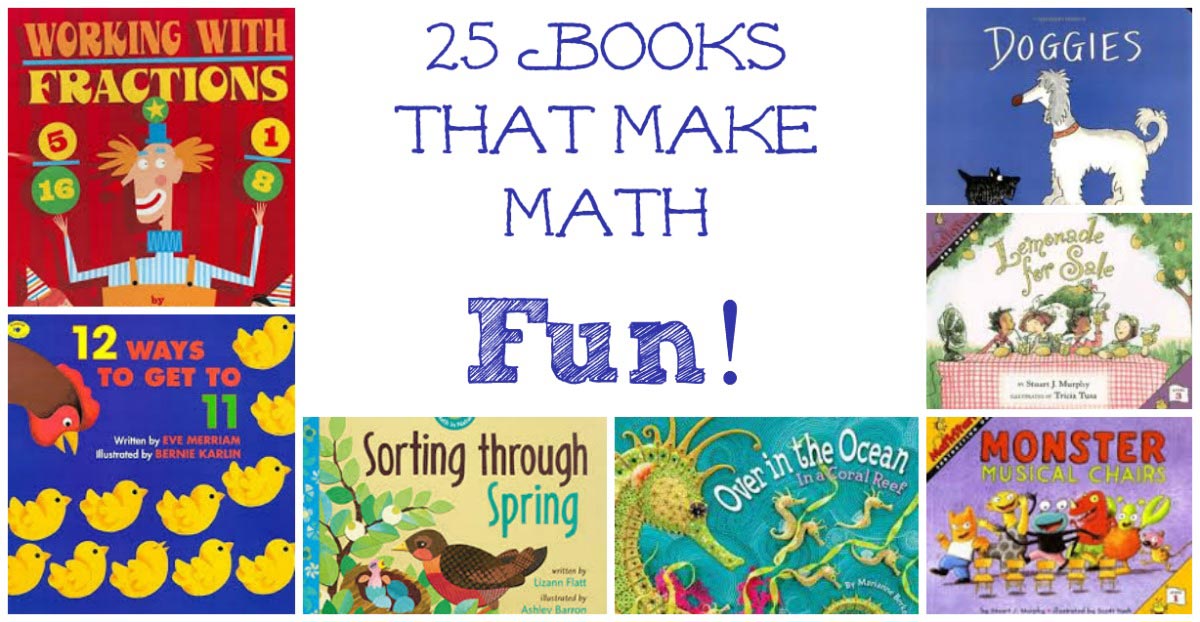 More Math Ideas to Inspire Kids
Measurement: Draw a Life-Size Whale