Looking for an alternative to Elf on the Shelf?
Try Searching for Jingle Bells hidden by elves!
I am always looking for ways to make things a little less hectic during the holidays – because I really don't need one more thing to remember (watering the tree every day is about all I can handle!).
We enjoy quite a few holiday traditions are our house already —
• having an Advent Countdown– print 100 free activities for you Advent Calendar!
• doing some family service projects together and
• enjoying ways that we can slow down and connect during the holidays.
So when faced with the decision of whether to allow an "Elf on the Shelf" to visit our house during the holidays, I had to say no!
---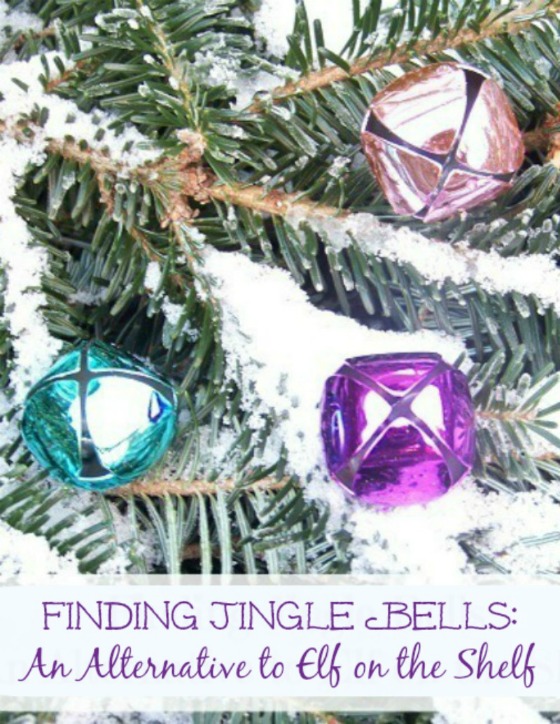 An Alternative to Elf on the Shelf: Jingle Bell Hunts
Like so many kids, mine learned about Elf on the Shelf from friends at school one year.
"Mom, why don't we have an elf that visits during December?"
But I had heard the stories from friends about how crazy the elf can get and how much time it takes to pull off those nightly stunts.
And how many times the elf "forgot" to move 🙂
I love the idea of adding some special Christmas magic to the month — in fact, one of our favorite family traditions are our December Advent Activities.
But I just couldn't accept the idea that there would be one more thing that I would have to remember to do before I went to bed every night.
Instead, I told my kids that right after Thanksgiving, they should be on the look-out for 'jingle bells' in our yard & around the neighborhood.
Because elves do visit, right?
Of course they do!
Everyone knows that Santa's elves peek in the windows to see who is being good and then report back to Santa.
They scout out the rooftops to make sure the reindeer can land safely.
And sometimes, they may lose a bell during their nighttime excursions.
It might fall off their little elf shoe or hat and get left behind.
Our kids have loved listening for the jingling of bells in the evening and looking near the windows when we're outside.
Sometimes the bells are tiny & gold, other times they are shiny blue or silver sparkles — elves lose all types of bells.
The BEST bells you can find are the large, gold bells — those are from the reindeer harnesses! Probaby lost during a test flight in the area 😉
Where to Find Jingle Bells
We've found bells in quite a few places:
• on the way to our mailbox,
• near some of our outdoor Christmas decorations,
• on the walk to school,
• in the backyard near out playset and
• a few right outside our windows
And Santa left one in a stocking one year when our somewhat doubtful child wanted to verify that the bell they found was indeed one from the North Pole.
Searching for bells encourages kids to go outside and get some fresh air!
It keeps the magic of the season alive while not stressing out all the adults who are also trying to enjoy the season 😉
And kids learn to heighten their power of observation — keeping their eyes open all the time — in fact, we even found a bell in the parking lot of Target one year! I guess those elves needed to pick up a few things for the holidays too 🙂
For me, it's much easier to remember to 'scout out' a few locations where jingle bells might be found than it is to coordinate the nightly movements of one of Santa's helpers.
So if you're looking for another way to invite elves into your home this year, try going on a Jingle Bell hunt!
Have a very Happy Holiday Season!
~ Jacquie
MORE HOLIDAY IDEAS:
25 Ways to Slow Down & Enjoy the Holidays
7 Gift Ideas for Creative Kids