One of the holiday traditions that we look forward to the most in our family is having an Advent Calendar. I remember having one as a child — putting candy canes into the slots each day as we counted down to Christmas Eve. And now we do one with our kids too.
Our countdown changes each year — sometimes we have a traditional Advent Calendar where the kids open up the little doors and peek in to find a riddle, joke or fun fact about the holidays.
And sometimes our countdown consists of hidden slips of paper that the kids have to hunt for in order to find out what we are doing that day — an outdoor adventure, volunteer activity or easy fun at home with the family!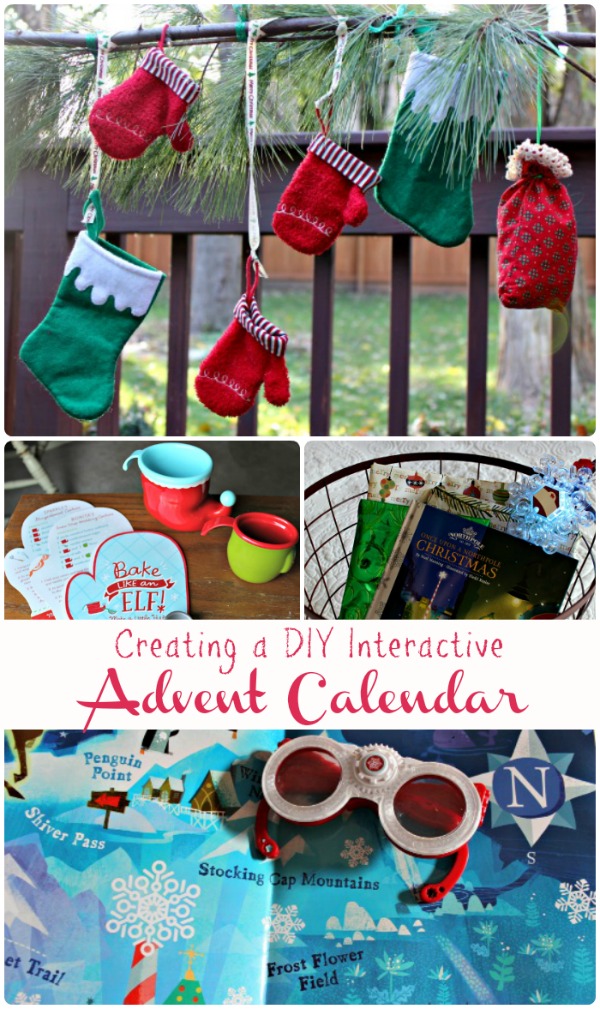 DIY Interactive Advent Calendar for Kids
Then there are those years when I'll pull together an interactive Advent Calendar that not only helps us count down the days but also doubles as a decoration.
This is one of those years — our oldest in a high school Senior this year so I know I won't have another countdown with him at home for the entire month of December. It's a little bittersweet — you love to see the kids grow up into confident young adults but you so miss those days when they would crawl up on your lap for a Christmas story.
So this year's Advent Calendar will include all of our favorite things from the past — and best of all, I'm upcycling so many items as I create it!
The first step was to decide what type of calendar we would have this year. I decided to go with a cozy winter nature theme.
We found a nice long branch that would extend the length of the fireplace. Then I pulled out some old gift card holders (mittens and stockings) that I've been saving over the years along with some holiday ribbon. This is the upcycle part of things — all those beautiful gift card holders or small boxes can easily be turned into an advent countdown.
I used the ribbon to attach each of the gift card holders to the branch and then we attached some evergreen branches to make it smell wonderful! Now I have a place to hide a joke, note or even a candy cane 😉
Now for the interactive part —
For each day in December, the kids will find the following things in their calendar:
A joke or fun fact related to the holidays
A photo of themselves from past Christmases
A slip of paper listing a family activity
A book (or chapter of a book) or other reading that connects to the holidays
My goal is that each day we spend a little time together as a family during the busy holiday season. That might mean playing a game, watching a fun holiday movie, serving others or decorating the house.
I want the kids to enjoy this last countdown together — I want them to be able to be kids during December. There's so many things that push them to grow up so quickly but at heart, they are still kids and it's Christmas — a time to be with family and help others.
I saw this Youtube video and it just hit home — let kids imagine all the fun things they will during the season!
I'll share our final list of activities later this month once I've completed all the details. If you'd like to see some of the items we've done in years past, check out the 100 Ideas for Your Advent Calendar printable list that was shared last year.
I will tell you that most of the items I include with our Advent Calendars are things we have one hand — holiday toys or items I may have had as a child that I now pass on to our kids, favorite books to read, fun activities that we can do together such as baking or ice skating and of course, service projects (we always adopt a few angels, bake cookies for others and do some RAKs – random acts of kindness).
But each year, I add in a few NEW surprises that will add something special to our countdown.
During a recent visit to Walmart for the hard-to-find clam sauce we all love, I walked into this:
I know! It was like I was in Santa-land or something!
So of course I stopped and looked since I can never pass by anything Christmas or any display with a book on it!
All the items are from Hallmark's Northpole Collection and are connected to the new family movie "Northpole" coming out Saturday, November 15th!
Once Upon A Northpole Christmas story book & Find me Santa Snowflake make a great addition to our Christmas reading tradition — we read a holiday story or chapter from a book each night.
And this will be perfect to read after seeing the movie!
The Magic Snowball is what the kids will find each day we are planning to do an outdoor activity — they can each guess what the activity will be and whoever gets it right will get to start an indoor snowball fight that day (it's a great way to burn off energy — if you've never had one before, they are super fun!)
I LOVE the Bake Like an Elf with Recipe Cards
Bake like an Elf baking tools with recipe cards! All the recipes have 'elf measurements' – so cute and my daughter will love them! These are sure to be a hit on our baking days (we usually have 3 during the month — one for pizzelles, one to decorate gingerbread and the third to bake for others).
The Santa Goggles with map and activities are the perfect way for me to interject a little learning in our Advent Calendar. The map is actually 3D once you put on the goggles (so there's some science there — how do things look 3D?) and I love anything that ties to geography!
So we'll do a few of our own map-finding things too — like where could the boxes we sent for Operation Christmas Child end up this season and where does our holiday gift exchange friend live.
A few other items that are part of all the #NorthpoleFun include a Hallmark Northpole Communicator TM
— kids can talk to Santa and the elves at the north pole and the Hallmark Dance Like an Elf
radio — for a family fun dance off!
I'll have our completed Advent Calendar up soon along with a list of free printable activities geared towards connecting as a family and fun ways to learn this holiday season.
Until then, I would love to know how your family gets ready for the holidays — be sure to leave me a note in the comments!
This shop has been compensated by #CollectiveBias, Inc. and its advertiser. All opinions are mine alone.