Explore backyard birds with these activities & crafts that can be done year round!
We have always loved outdoor activities as a family and wintertime is no exception.
Birds enjoyable for the whole family and unlike so many other animals, they can easily be found thoughout the world — whether you live in a city, out in the country or in the suburbs.
15 Backyard Bird Activities & Crafts for Kids
When my daughter was a baby, she caught a horrible respiratory virus her first winter and the doctor wanted her inside on those super cold days.
Well, keeping a 10 month old entertained while you're cooped up indoors is a challenge (as all us parents know 🙂 but one thing she LOVED to do was watch the birds out the window!
Every morning after breakfast, we would see who was visiting our garden area.
We love watching birds for a few reasons —
First, it can be done year-round!
In winter, there are not as many people outside which means more space for you (and more quiet so as not to scare the birds). And during Spring, Summer and Fall, it's easy to see birds because so many are out & about.
Plus, birding can be done indoors or outside! Whether you're in the backyard, looking out a window or at the playground, chances are you'll see a few feathered friends.
Today's nature round-up includes bird watching ideas, family crafts and great books for you to enjoy together. We've included links to some great resources along with affiliate links for items we've used in our birding adventures too.
Favorite Non-fiction Bird Books
As your kids will quickly notice, birds some in a variety of shapes, sizes and colors. Grab one of these great books to learn more about which birds live & fly near you —
Birds, Nests & Eggs (Take Along Guides)
will help you identify 15 types of backyard birds. The book also has a section for journaling and drawing the birds you see in your yard.
Fine Feathered Friends: All About Birds (Cat in the Hat's Learning Library)
is perfect for younger kids. It's chocked full of facts about birds around the world and is a great way to introduce kids to the idea of backyard birds vs. arctic birds vs. seabirds.
How Do Birds Find Their Way? (Let's-Read-and-Find-Out Science 2)
is one I love for kids who enjoy asking questions. Learn the details about how birds know where to fly (without Google maps 😉 This is especially a great one if you have birds like cardinals who return to your yard each year.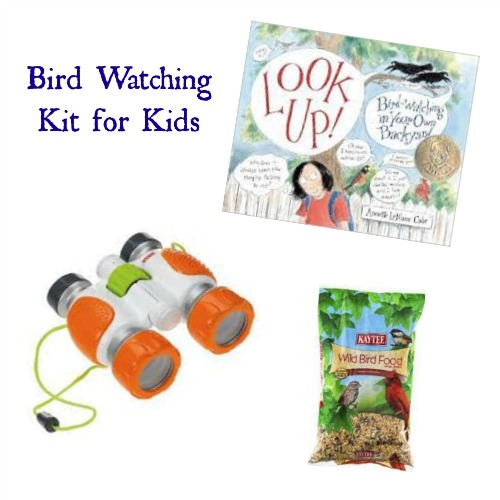 If you're family wants to attract birds to your backyard — and I mean more than just those fly-by visitors, we recommend creating a bird-friendly environment! Choose a bag of Wild Bird Food
and some fun binoculars — Fisher-Price Kid Tough Explorers Binoculars
for preschool and early elementary school kids or the Compact Folding Binocular
for older kids.
And your kids can learn more about birdwatching with Look Up!: Bird-Watching in Your Own Backyard (Robert F. Sibert Informational Honor Books)
.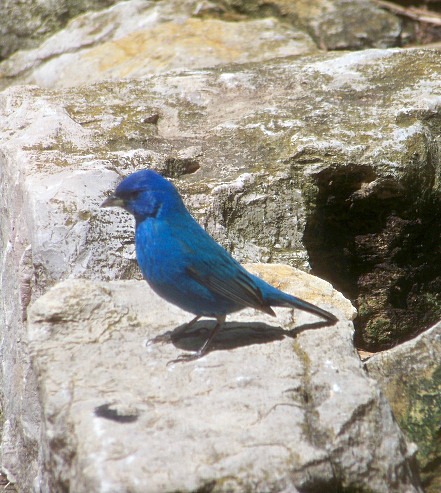 Making Your Yard Bird-friendly
Birds will need someplace to rest and maybe even have babies! Here are a few ways to invite them into your yard:
How to Help Backyard Birds Build Their Nests || What Do We Do All Day
How to Make a Bird Bath || Childhood 101
DIY Birdhouse || Planet Smarty Pants
You can also try this amazing clear window Bird Feeder and see the birds up-close & see what they're are doing without them knowing!
Easy Backyard Bird Feeders
Easy Backyard Bird Feeders || Edventures with Kids
Biscuit Cutter Bird Feeders || Messy Little Monster
Heart Shaped Berry Bird Feeder || Sun Hats & Wellie Boots
Homemade Bird Feeders || Clare's Little Tots
Birdseed Ornaments || Simple Play Ideas
Bird Activities & Crafts
Learn more about our feathered friends with this Bird Unit with Free Printables || Every Star Is Different
Use this set of kid-friendly binoculars & full-color bird guide to see who's flying around your yard!
Go on a Backyard Bird Hunt with this Toddler-Friendly Binocular Craft || House of Burke
Become a citizen scientist by getting involved with the Great Backyard Bird Count in February or the Christmas Bird Count in December.

Garden Bird Small World || Learning and Exploring Through Play
More Outdoor Activities for Kids: