Explore science & seasonal changes this week with ideas for items to include on your Fall Nature Table!
I'm so excited because I have proof that Fall is coming!
If you're still suffering through the lingering summer heat, I know you're with me when I say that I can't WAIT for the cooler temps.
But look what I found — colored leaves, acorns that have fallen to the ground and mums! Ahhh, all beautiful signs of Fall.
Not to mention wonderful inspiration for this week's nature or outdoor project: creating a Fall Nature Table!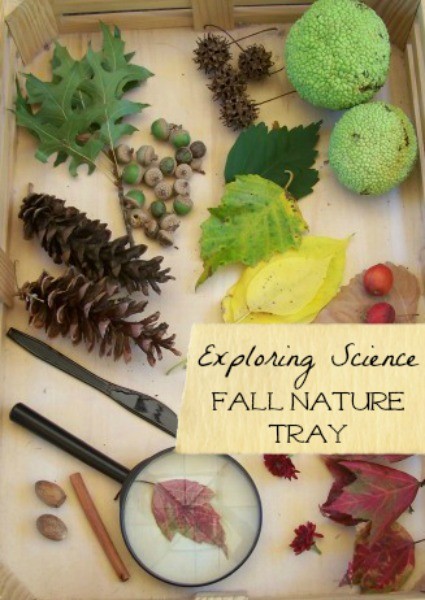 Items for a Fall Nature Table or Tray
An Invitation to Explore is a way to encourage children to discover something new and look deeper into a topic that interests them.
They are easy to set-up and adapt for kids of all ages.
One of my favorite things about these invitations is that they inspire discussions.
Many times, kids will ask questions about the items, sometimes science or math-related inquires and other times the questions will relate to family, history or the world around them.
They are a wonderful way to inspire learning and family connections.
There are so many fun ways to enjoy the season and one of the biggest changes kids will notice is what is happening in nature.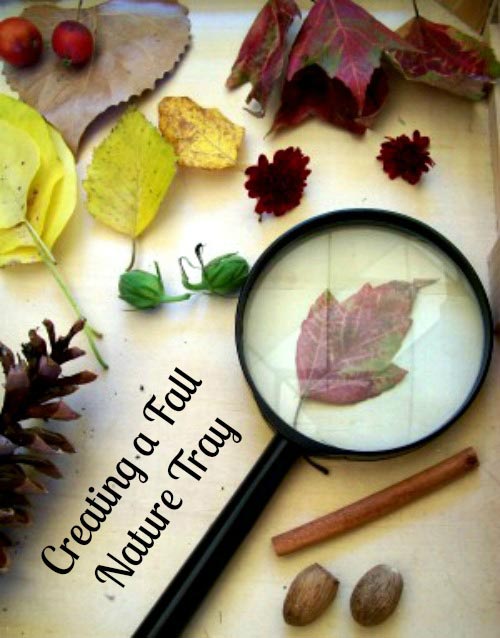 Creating an Autumn Nature Table
For this nature invitation, you will need to go on a outdoor scavenger hunt and round up a variety of items. In fact, feel free to print off your favorite from these 18 Autumn & Fall Scavenger Hunts as you look for items to include on your table.
One thing I always include with any of our activities is a few books! Since this Nature Table will focus on seasonal changes in Autumn, I would highly recommend the following:
Count Down to Fall
for younger kids (ages 2 – 5)
Each page of the book uses a short rhyme to introduce a new tree, describes the color of the leaf in the Fall and shares pictures of the leaf and seed from that tree. It's a great find-and-seek book to use with items on your nature table!
Awesome Autumn
for older kids (ages 5 – 11)
With gorgeously bright pictures, this books does a wonderful job of introducing the various events that occur during Autumn – harvest, leaf changes, migrations and the changes kids will see right in their own neighborhood.
Both of these books pair beautifully with our FREE set of Fall Leaf Scavenger Hunt cards too!
I usually create a checklist of items I'd like to have on the table using either a scavenger hunt page or ideas collected from stories we've read prior to the activity.
Items can be displayed on a table, in a basket or on a tray for kids to touch and explore. We like our nature tables to be portable so we use a nice, large wooden tray for our items.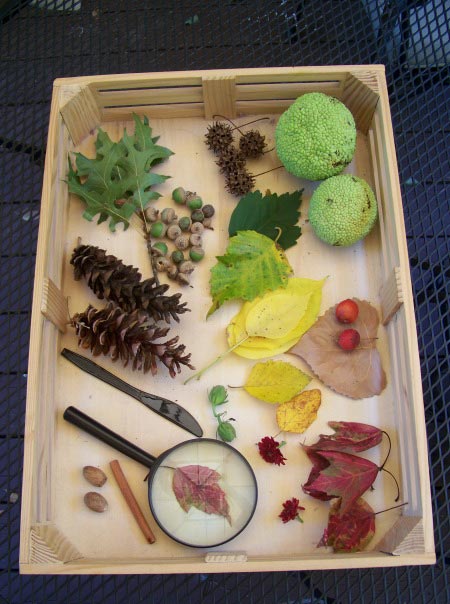 Items to Include on A Nature Table
You will be able to find items for this activity in your yard, at a park or even in your kitchen. The idea is to display natural items that will lead to a discussion about the seasonal changes that take place in the Fall.
Here's a quick list of what I included:
A variety of shapes and colors of leaves (the more, the better as you'll see below)
Tree seeds — acorns, pinecones, spiny bur
Tree fruits — crab apples, hedge apples (osage oranges)
Whole spices that remind us of fall – cinnamon & nutmeg
I would have liked to include some tree pods but none have fallen yet.
If you'd like to inclulde the names of trees, use our FREE printable tree tags and scavenger hunt with your table too!
Also, please remember to only collect items you see on the ground and return all the items back to your yard or park when you are done exploring as the animals will need them this Fall!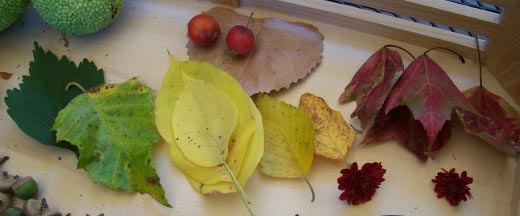 Quick Learning Ideas for Your Nature Table
There are a few things that kids will notice right away such as different color and shaped leaves.
You can begin by discussing colors and shapes for some quick learning. Have kids sort leaves into groups (by color or shape) and also count the items if you have younger kids who are mastering their counting skills.
And here is where the questions will begin — why are leaves different shapes? Why do some turn yellow and others turn red?
As kids ask these questions, they are exploring science — it's so easy!
This is a great opportunity to discuss how we use leaves and seeds to identify different types of trees. Take a walk back to the areas where you gathered the leaves & seeds so you can help kids identify the different trees.
Here are a few other easy activities kids can do with their nature items:
Conduct a science experiment using leaves
One of the questions that arose during our exploration was — can we eat acorns?
Hmmm…good question! We eat other types of nuts so why not acorns — we're now researching to find the answer.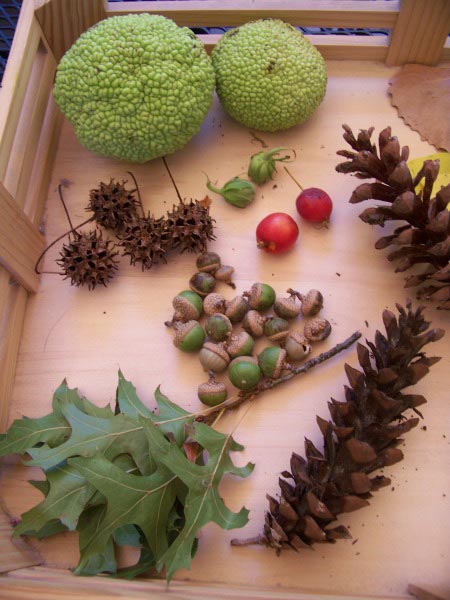 How Nature Tables Expand Learning
The variety of tree seeds and fruits will naturally lead to learning about size, weight and even smell!
Let kids hold the items and sniff them too. There's quite a bit of sensory learning with nature tables.
Ask your kids which is heavier — could a squirrel carry all the items up a tree or would they need to break them apart on the ground first?
What items could easily be blown around by the wind?
You could also do an easy sink or float experiment by placing the items in a shallow tub of water — you might be very surprised at the results! Grab a FREE worksheet for your sink & float experiment here!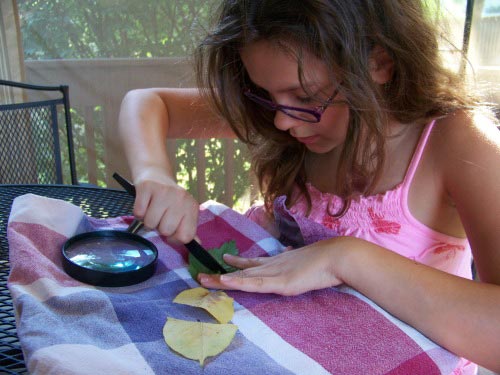 If your kids are older, have them dissect the items in the tray.
For younger children, have an adult cut open some of the items.
This was a huge hit at our house!
When you cut open a crab apple or peel away the outer shell of an acorn, they have a great scent. The inside of a hedge apple looks similar to a kiwi (who knew?!)
We broke open the cinnamon stick and nutmeg and Wow! Amazing smells!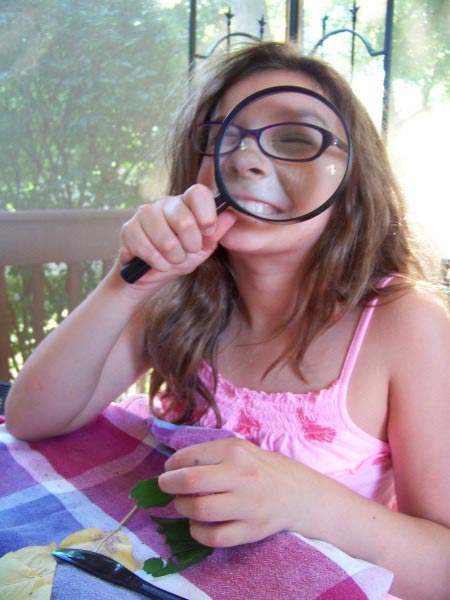 Inspiring Kids to Explore Nature
One of the biggest draws is always the science equipment and it doesn't have to be anything big or complicated.
A simple magnifying glass will let kids get an up close view of the veins on a leaf and the details of a nut. And it's also a great way to introduce them to items that real scientists use (and likely, things they will use as they enter junior and senior high school one day!).
So there you have it — Simple, easy and engaging ways to explore the season!
If you're looking for a more ideas of ways to celebrate the season, make sure to hop over to our printable list of 40 Awesome Autumn Activities for inspiration.
More Ideas for Nature Activities
Animal Observation Activities with FREE printable journal page
DIY Nature Notebook with 50+ free printables
12 Citizen Science Projects for Kids
Exploring Animal Tracks in Winter