Enjoy these 5 EASY Halloween games for kids, tweens, teens and even adults - great ideas for party activities or family fun!
Autumn always seems to be full of so many items that my calendar fills up quickly - school events, festivals and all the holiday prep and play.
So I like to have a go-to list of fun fall games for kids - especially ones that are quick to set up and easy to play either inside or outdoors. Today's games are just that -- 5 FABULOUS games that can be set up in less than five minutes and are super fun to play!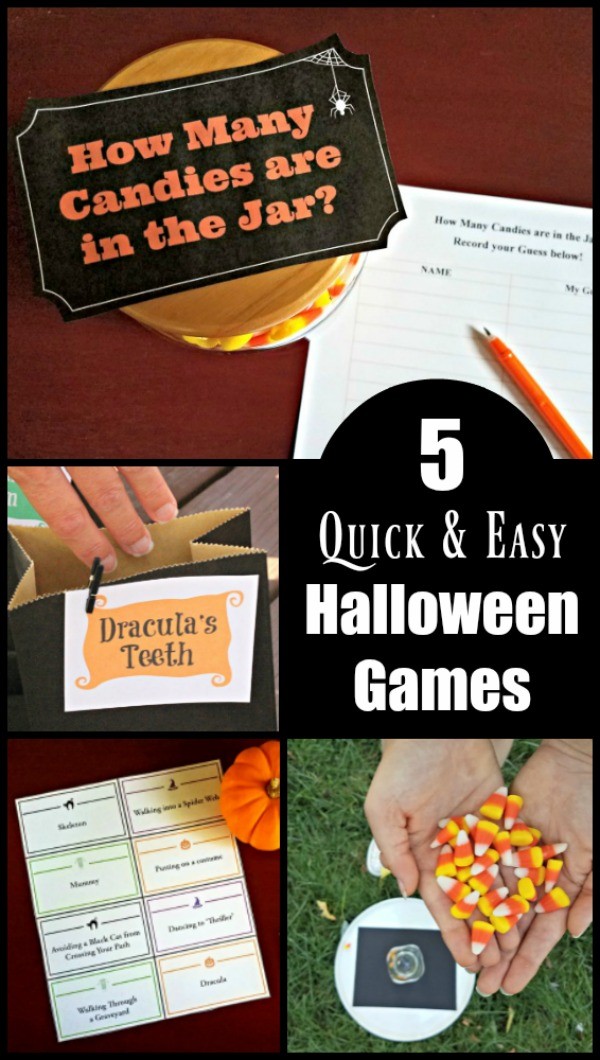 5 Halloween Party Games for Kids, Tweens & Teens
Whether you're looking for ideas for school parties, family fun or alternatives for Halloween night, you'll LOVE this round-up of ideas!
These games are AWESOME for a few reasons:
Totally easy set-up with very few items needed!
Totally easy clean-up too!
Games appeal to kids of all ages -- preschool, big kids, tweens & teens (and yes, even adults)
And each of the games can be played indoors or outside!
We've included details on how to play each game, affiliate links to items we used and FREE printables for the games so you'll have them set-up and ready to play in less than 5 minutes!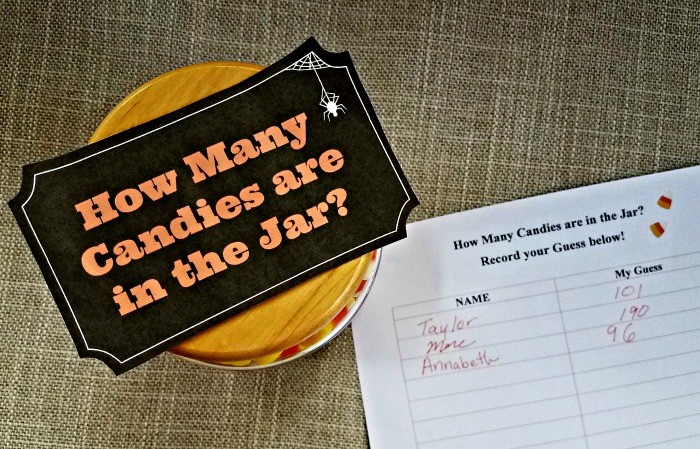 Candy in the Jar Guessing Game
This classic game has been entertaining young and old for ages!
I think it's the fact that the prize is usually ALL the candy in the jar ;)
Just gather some of your favorite Halloween candy, count out the number of pieces you want to add to the game and stuff them into a jar. Don't forget to write down the number of pieces somewhere so you know which guess is the closest. (get these FREE printables below!)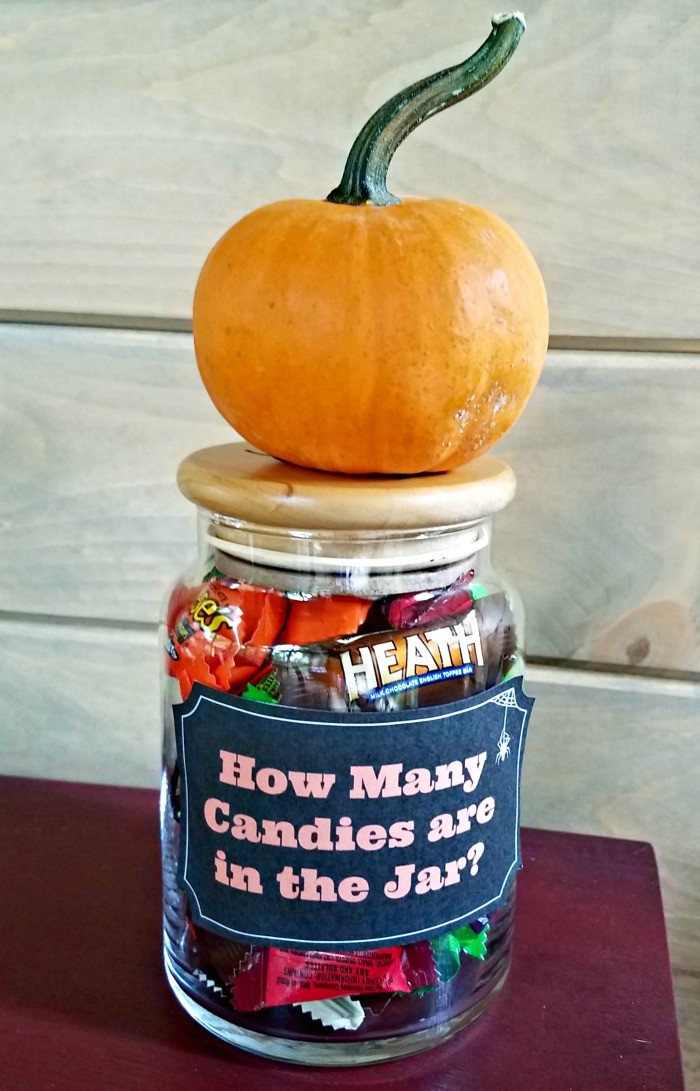 To set up the game, just print the free label and attach it to your jar and place the free printable "What's Your Guess" recording sheet next to it. Allow each player only one guess and the winner is the one who comes closest to the actual number of candies.
I like to use small candies like candy corn but this game also works well with wrapped candy too! Be sure to use a clear plastic or glass jar so players can easily see the candy pieces before they write down their guess.
Feel free to alter the prize options too -- small Halloween trinkets like Vampire Fangs or these fun Halloween punching balloons are always great ideas for the winner(s) or all who play the game!
Grab your copy of the FREE printable Guess How Many Candies are in the Jar? label & recording sheet below!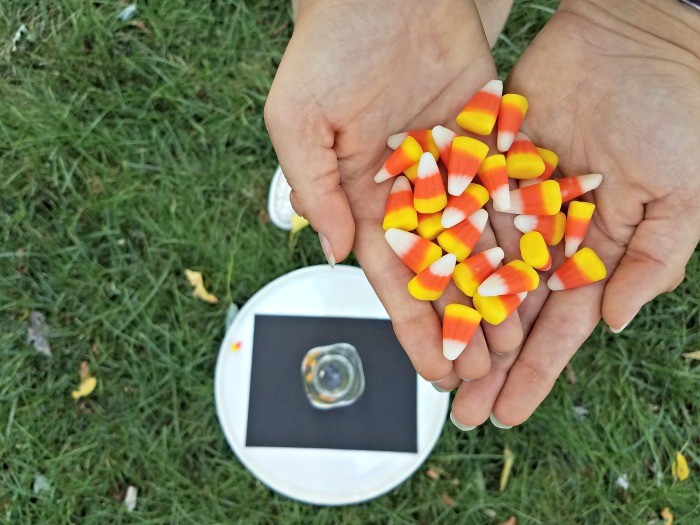 Candy Corn in a Bottle Game
Did you ever play clothespins in a bottle when you were younger? This is a Halloween-themed version of that same game!
Set a milk bottle or jar upright on the floor or ground -- we put ours on a serving tray so the candies that missed the jar would be easier to gather up. Then give each player a handful of candy corn (these mini-packs of candy corn would be perfect for this game!).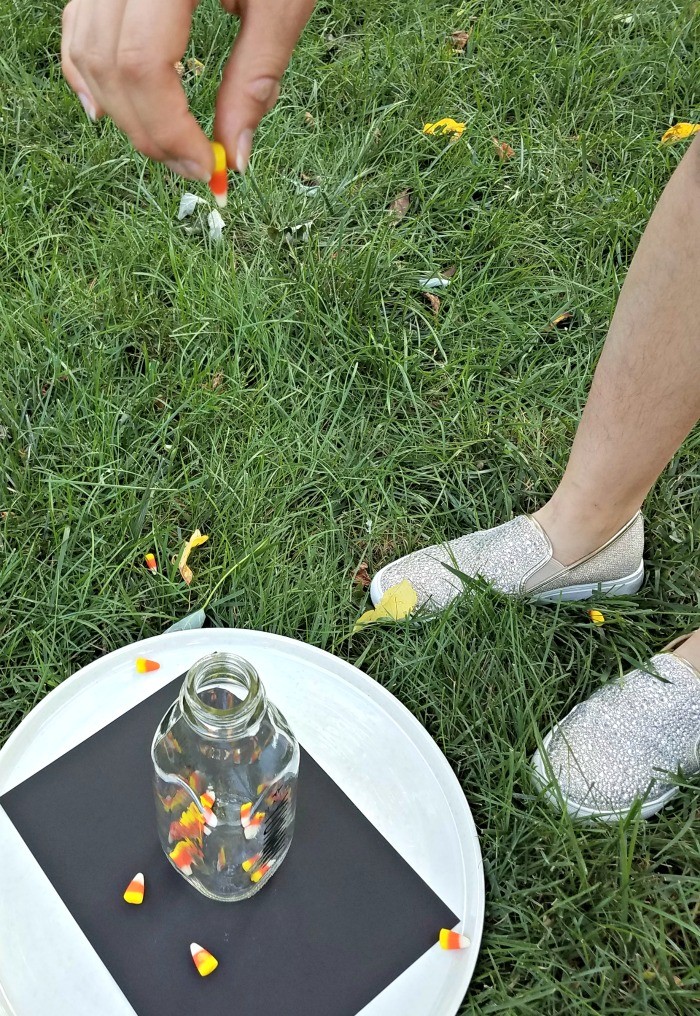 To play, each person should stand straight over the bottle and try to drop the candy corn through the opening. Players should NOT bend over :)
Have each person record the number of candy corns that made it INTO the bottle.
ps. It's not as easy as it looks!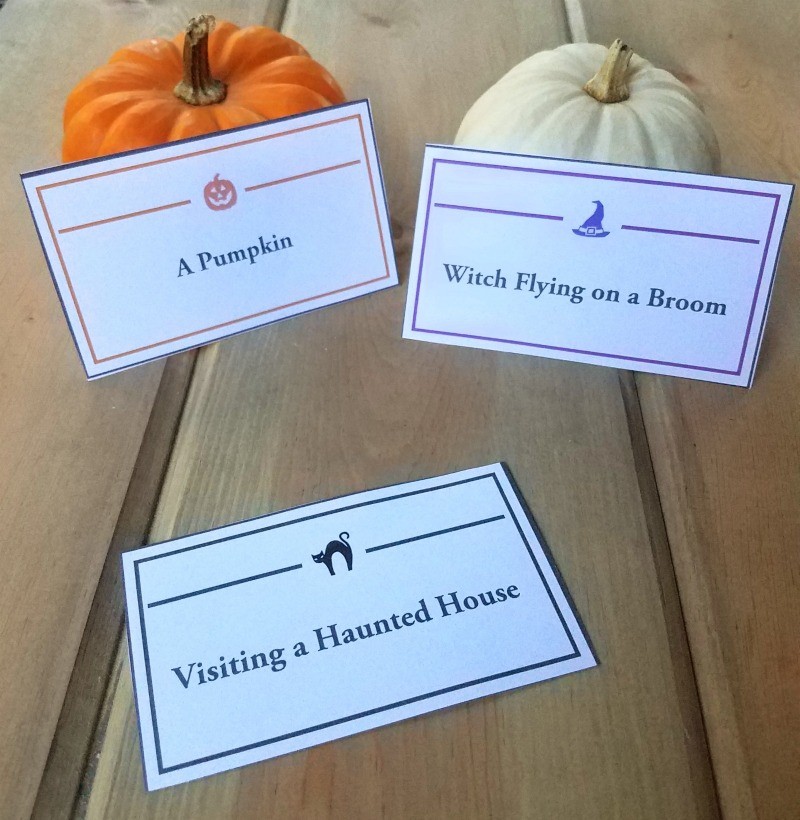 Halloween Charades or Pictionary
A two-for-one game, these printable Halloween charade and pictionary cards do double duty!
For an outdoor party, use the cards to act out words and burn off some energy. If you'll be inside, the cards can be used as a pictionary or drawing game where players need to sketch the clue for others to guess.
Get your free printable set of Halloween Charade cards now!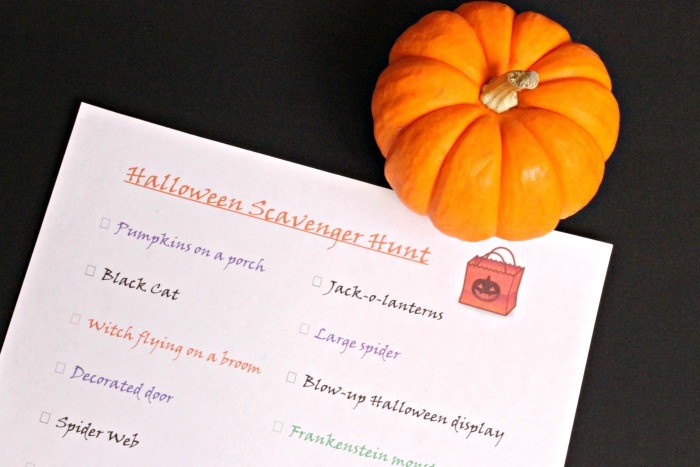 Halloween Scavenger Hunt
Who doesn't love a scavenger hunt?!!
This one works in any area decorated for the holiday -- as a party game (especially with a group), around the neighborhood or at a school party (just hunt the hallways and classrooms for the items on the list!).
Plus we've included a fun challenge at the bottom of the hunt -- the more items you find, the more 'bones' you earn!
And it can easily be turned into a photo scavenger hunt too (especially appealing to tweens & teens ;) -- just have players use their phones to snap a picture of each item on the list
Grab a copy of the FREE printable Halloween Scavenger Hunt here!!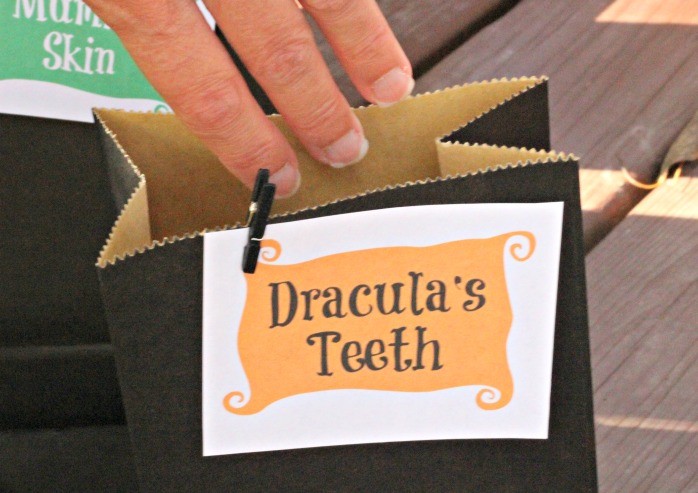 Mystery Touch & Feel Boxes
Another super fun party game, these Mystery Touch & Feel Boxes (or bags) are great for all ages!
Players will enjoy guessing what items represent "Dracula's Teeth" or "Ghost Poop" as they stick their hands into the boxes!
We've include free printable labels for each of the six boxes and a list of items to put inside. And as a bonus 'treat' to the adults setting up the game -- all the items are non-messy so you can play anywhere without being worried about the dreaded clean-up ;)
Get the FREE Halloween Touch & Feel Box printables here!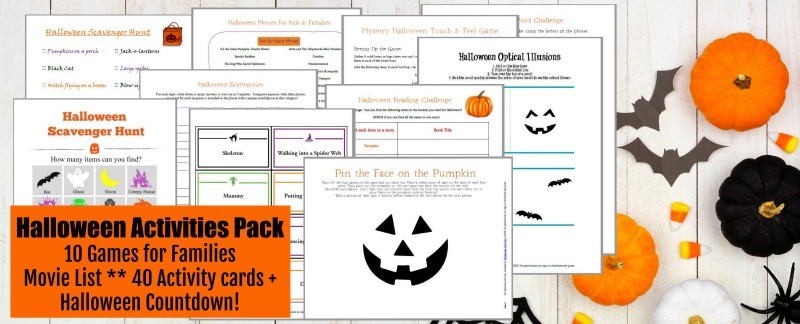 More FUN Halloween Games
And if you're looking for more fun ideas for Halloween (especially if you'll be celebrating at home) check out these Printable Halloween Games & Activities!
Try Minute to Win It Halloween Games
Not only are these games quick to pull together but they can also be quick to play too.
Just set a timer for one minute for the Candy in the Jar, Charades, Candy Corn Drop and Mystery Touch & Feel games -- players will need to complete each challenge during that time. For the Halloween Scavenger Hunt, give players a set time (like 10 minutes) to see how many items they can locate.
More Fun & Printable Games to Try: