Kids will love learning about penguins with these activities, books and lesson plan ideas — you'll find TONS of information for a unit study or penguin project!
Who loves penguins?!
Those adorable and quirky birds are intriguing to so many of us.
Our local zoo just opened it's new pengin exhibit so we are thrilled to be able to see the penguins up-close. Both of my kids adore marine animals (I think it must be hereditary as mama is also a big fan 😉
We visited over winter break and watched the penguins swim and dive – they sure can be mesmerizing creatures!
So in honor of our newest local residents, I thought I would share some of the books & resources we've used to explore penguins.
---
Penguin Unit Study & Activities
We're including links to books, videos, activities and affiliate items we've used to learn about penguins — this is a great resource if you're building a unit study or have a child who's nuts about these birds 🙂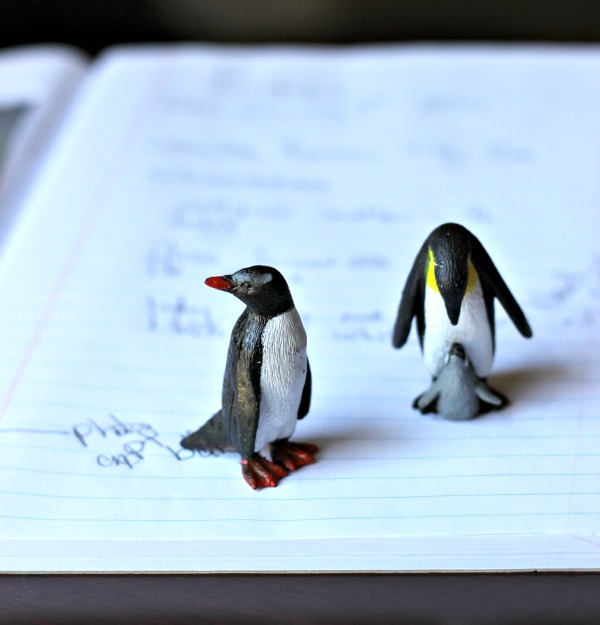 Penguin Facts for Kids:
Even though they might look similar, there are actually 18 different species of penguins. Some are quite tall while others are tiny. A few species have yellow head feathers and none can fly (although they can swim like crazy!).
We love to use the Penguin TOOB figures (like the ones above) for our hands-on learning activities. Other cool hands-on penguin items include the Penguin Hatch ems Egg (hatch your own penguin!)
The emperor penguin is the largest of all penguins and can grow to 48 inches in height!
Math Activity #1: Measure out 48 inches with a ruler or yard stick and compare that to your child's height — are they shorter or taller than an emperor penguin?
The smallest species of penguin are called the Little Penguin and they usually grow to be 13 inches in height.
Math Activity #2: Have your child figure out the height difference between an emperor penguin and little penguin.
You can visit Live Science to see pictures of each type of penguin along with a brief description.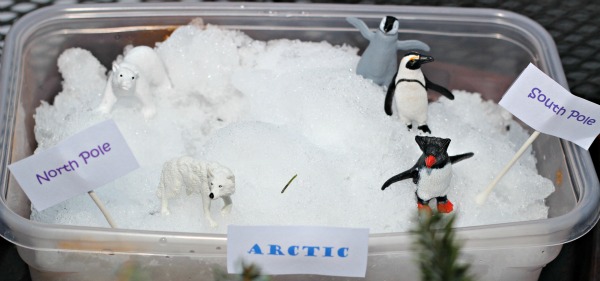 Penguins live in the southern hemisphere and not just on Antarctica.
You can find penguins in Australia, South America and Africa plus a number of islands sprinkled throughout the oceans around Antarctica.
A fun hands-on activity for kids to create is creating an Arctic Habitat or Arctic small world to learn which animals live at the North or South Poles. If you want to learn about different arctic animals, see this list of Books about Polar Animals.
Geography Activity: Use this interactive map at Penguins of the World to learn more about which species are found on the various continents.
Or pull out your own map of the world and locate where pengins live.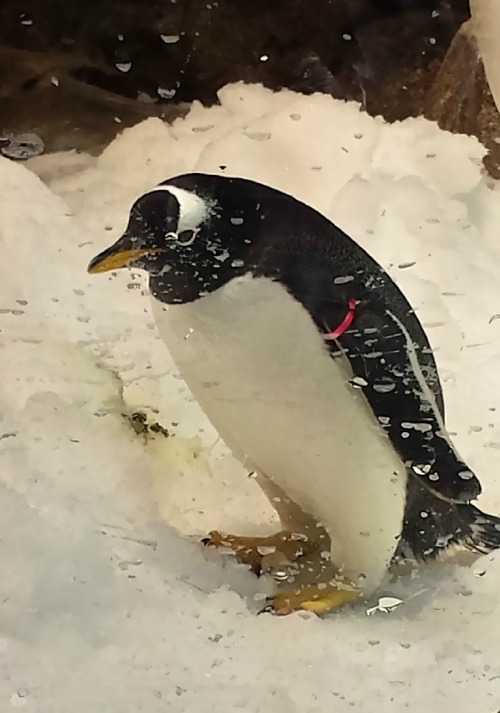 Penguin Webcams
And if you're not lucky enough to have any penguins near you, not to worry — you can still watch them and laugh at some of their antics using these wonderful live webcams:
Visit the webcam at the California Academy of Sciences at 10:30 am PST and 3:30 pm PST to see feeding time!
The Monteray Bay Aquarium also has a great Penguin Cam for feeding times and general viewing.
And we really enjoyed the movie March of the Penguins
— if you haven't seen it, it's a great family movie with some wonderful footage!
Penguin Books for Preschoolers & Elementary Grades
Baby Penguins Everywhere!
is a cute story about a lonely penguin who finds a hat. And out of the hat pops a little penguin — followed by many more. The watercolor illustrations and pencil illustrations are beautiful but simple, just like the text in the book. Younger kids will enjoy this brief but touching story.
Now this is a funny book! In Penguin's Hidden Talent
, Penguin wants to enter the talent show but after trying to burp the alphabet and juggle kitchen appliances, he decides that he doesn't have any talents so he'll organize the show instead. Kids will learn that each person (or animal in this case) has their own unique talent even if it's something they wouldn't normally expect. Enjoyed by kids ages 3 – 9.
365 Penguins
has to be one of our favorite reads on penguins! First, it's a large oversized book so that makes things fun because the pictures are bigger. And it includes TONS of Math! I know – how cool is that!
The premise of the story is that a family receives a package on New Year's Day that includes a pengin. And then a new penguin arrives each day. The book only uses orange, black and white in it's illustrations as readers are encouraged to work through things like "each penguin ate 2.5 pounds of fish per day" – how much do you need to order. And "a pound costs $3" – so how much money will we need? Funny and engaging for kids ages 3 – 12 years!
Little Penguin: The Emperor of Antarctica
shares the life of a baby emperor penguin as he grows up. Kids will learn how pengin Dads take care of the babies, what young penguins need to do to survive and how they will return to the same place their were born to have their own babies. Perfect for kids ages 3 – 10.
Penguins!
by Gail Gibbons, a favorite non-fiction author, does a wonderful job sharing facts and details about animals. Kids will learn TONS about the various species of penguins along with the characteristics and habitats. An informative read for ages 5 – 10 years.
Face to Face with Penguins
includes lots of full-color photos and wonderful facts and details about all types of penguins. Just what you would expect from National Geographic and their amazing photographers. Great for kids ages 8+.
What would you do if someone sent you penguins? In the classic story that's perfect for a family read-aloud, Mr. Popper's Penguins
inspires a lot of laughs as the Popper family learns how to live with penguins. See how an average house painter gets to travel the world all because of this unexpected gift. Excellent read-alouds for all ages!
One of our favorite science series is the Magic School Bus. This is not only a picture book series but also a great chapter book series that goes in-depth with a variety of topics. In Penguin Puzzle (Magic School Bus Chapter Books #8)
, kids will enjoy learning about all types of penguins as Ms. Frizzle & the class travel to Antarctica. A great series for kids ages 7 – 12.
If you're a fan of Jack & Annie, be sure to read Magic Tree House Fact Tracker #18: Penguins and Antarctica
! I absolutely LOVE the non-fiction companions that pair with the Magic Tree House series! Each book is chocked full of facts, fun illustrations and includes answers to so many of the questions that kids have about the subject. This An excellent resource for kids ages 7+.
My Season With Penguins: An Antarctic Journal
takes the reader to Polar Haven, a tiny town in Antarctica, with the author of this story. She spends two months living close to the penguins and chronicles her travels in this kid-friendly journal. Filled with lots of details and beautiful illustrations, readers will enjoy this insider look at what life's like on the cold continent. Engaging read for kids ages 8+.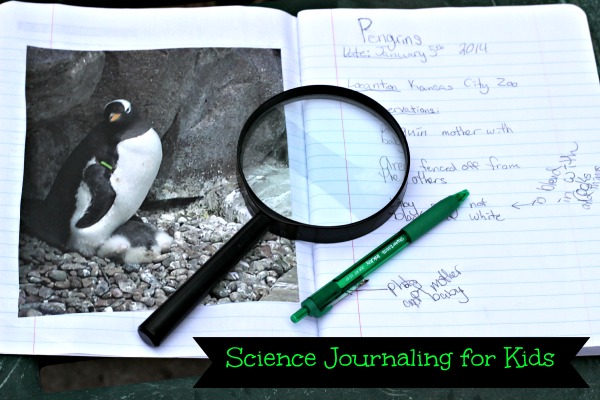 Once you read a few books and either see penguins in person or via a webcam, try journaling about penguins in your own nature notebook!
More Animal Learning Activities:
50 Free Forest Crafts & Activities
Explore Animal Habitats: 40 Crafts & Projects