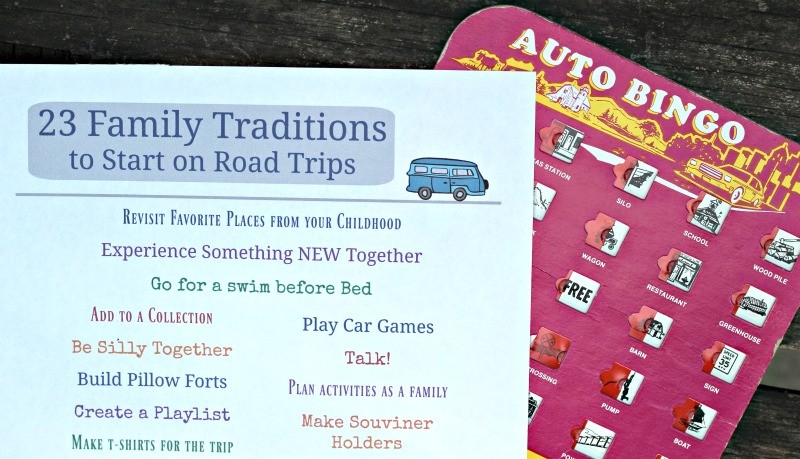 Tips on How to Start Family Traditions when you travel & take vacations -- with a free printable list for you!
Growing up, our family road trips where one of the highlights of my summers.
Every year, we would head off to see far-away family members or set out to explore a new destination together.
This was back before seat belt laws and car seats -- when flying a family of 5 was 'way out of the budget'.
My Dad would pack three pajama-clad kids along with all their pillows & blankets into the back of a station wagon and hit the road by 4 am.
"When you wake up, we'll stop for breakfast" he'd tell us the night before.
Yes, there were squabbles, along with the frequent "are we there yet" comments every few hours but isn't that what a road trip is really all about?
When we'd reach our destination, we would all pile out of the car, put our arms over our head and do one of those big s-t-r-e-t-c-h-e-s that only come after being cooped up in a vehicle for hours.
Family would come out to greet us with smiles & hugs "You made it!"
"How was your trip?"
Even now, when we take our kids on road trips, there's always someone that utters that question – how was your trip?
My husband will look at his watch to let you know if 'we made good time' or not.
Sometimes one of the kids will say 'it was long!' or 'so much fun! We stopped and saw (insert crazy road side trip Mom made us go on here)'
For me, there's really only one word that comes to mind when I hear that question – how was your trip?
It was memorable.
Always memorable.