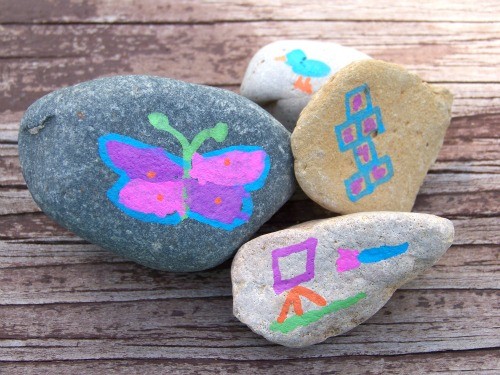 This rock painting idea + fun things to do outside will inspire more creative play for your kids without having to hear "there's nothing to do" this summer!
I'm a toss-the-kids-out-the-door kind of parent.
Children (along with teens and adults for that matter) just don't get enough time outside. I can recall enjoying some wonderfully long days climbing trees, skating, creating, digging & exploring as a child.
But I grew up with siblings and neighbors that were all close in age so there was always someone who wanted to "go out & play".
My daughter doesn't have the luxury of playmates knocking at her door so lately I've been looking for ways to entice her to spend more time outside.
Since she really enjoys crafts and also likes to be surprised, we decided to create an Outdoor Activity Jar together to inspire more exploration & outdoor play this year.